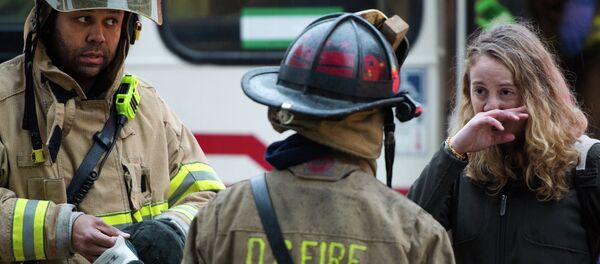 13 January 2015, 06:24 GMT
MOSCOW, January 13 (Sputnik) — A Washington DC metro tunnel filled with smoke Monday, leaving one person dead and dozens hospitalized. The L'Enfant Plaza Metro station was evacuated with service partially disrupted on the two lines.
Some of the major accidents that have taken place in subways across the globe over the period of 2010-2015 are outlined below.
On March 29, 2010, there were two large explosions in Russia's Moscow Metro at the "Park Kultury" and "Lubyanka" stations on the Sokolnicheskaya line, less than an hour apart from each other. Forty people lost their lives, 160 were injured.
On April 11, 2011, an explosion took place on the "Oktyabrskaya" underground station in Minsk, Belarus, during rush hour. Fifteen lost their lives, more than 200 were injured.
On July 5, 2011, one person was killed and 20 were injured due to an escalator travelling upward failing at the "Beijing Zoo" station on the fourth line of the Chinese capital's subway. One person died, 20 were injured.
On September 27, 2011, two subway trains collided in Shanghai, China. Signal failure on one of the lines of the city's underground caused a train to crash into the last car of another train. Over 500 people were evacuated, with more than 240 injured. According to the underground officials, most injuries were not serious.
On April 15, 2012, an escalator came to an immediate halt when the emergency brake was activated at "Komsomolskaya" station on the Moscow Metro. Ten people were injured; two seriously with a broken back and severe trauma to the head.
On May 16, 2012, two trains collided in Sao Paulo, Brazil. More than 30 people were injured.
On August 27, 2012, fire broke out at a subway station in Busan, South Korea, due to contact wire ignition. More than 40 people were injured, the majority of whom had mild carbon monoxide poisoning. All the injured were hospitalized.
On September 26, 2012, two trains collided on the second subway line in Milan, Italy. The incident took place between the "Gioia" and "Garibaldi" stations. Eleven people were injured, including one of the drivers and a pregnant woman.
On November 22, 2012, two trains collided on the third subway line in Busan. A train containing more than 100 people stopped in a tunnel due to a technical fault. An empty train was sent to the tunnel in order to retrieve the first. The second train's driver did not manage to stop the train in time and crashed into the first train. As a result of the collision, 50 people were injured.
On June 5, 2013, a power cable caught fire twice between the "Biblioteka Imeni Lenina" and "Okhotny Ryad" stations of the Moscow Metro, causing large amounts of smoke. The fire was ten meters long. Six stations on the Sokolnicheskaya line were closed as a result and 4,500 passengers were evacuated. Services were suspended for several hours. More than 50 were injured, with 28 requiring hospitalization.
On November 17, 2013, smoke filled a new subway train in Warsaw, Poland, with eye-witnesses mentioning fire. Around 150 passengers inside the train and several hundred people at the Politechnika station were evacuated. Nine were hospitalized with symptoms of smoke inhalation, including a child and three police officers who helped people leave the station. The central fragment of Warsaw's only Metro line was shut, between the "Ratusz Asenal" and "Wilanowska" stations.
On March 10, 2014, a subway train derailed in Boston, Massachusetts (USA). The incident took place between the Kenmore and Fenway stations on the green line. The train was only two carriages long. The first carriage derailed, crashing into a tunnel wall. At least ten people were hospitalized.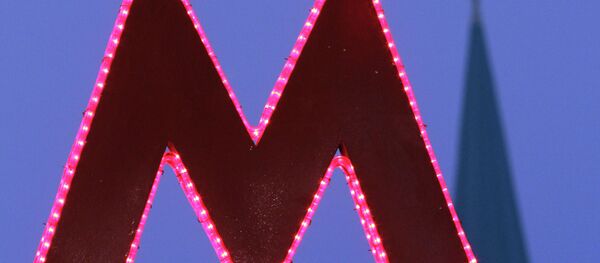 17 October 2014, 17:24 GMT
On March 21, 2014, Moscow Metro's Arbatsko-Pokrovskaya line was shut between the "Shchelkovskaya" and "Partizanskaya" stations due to a flooding. Around 600 people were evacuated, with a worker from the water supply company, Mosvodkanal, losing their life. The incident was caused by repair works, during which the water line was damaged.
On May 2, 2014, six out of 8 subway carriages derailed near Queens, New York. Around 1,000 people were on the train at the time. Four were seriously injured, 15 had minor injuries. A few hundred people were evacuated by firemen due to large amounts of smoke.
On May 2, 2014, two trains collided on the second subway line in Seoul, South Korea. The collision took place as one train crashed into a stationary, broken train. The second train's driver was not able to react to the traffic signal quickly enough, and could not brake in time, causing a number of carriages to derail. Around 240 people had injuries of varying severity.
On May 19, 2014, an explosion took place at a subway stations in Seoul. An item of electrical equipment in the train was damaged as a result. Eleven people were injured.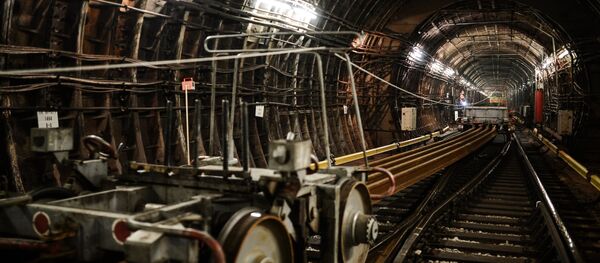 On July 15, 2014, the largest technological disaster in the history of the Moscow Metro took place. Three carriages derailed after a train stopped suddenly between the "Park Pobedy" and "Slavyansky Bulvar" stations. Around 190 were injured and 24 died.