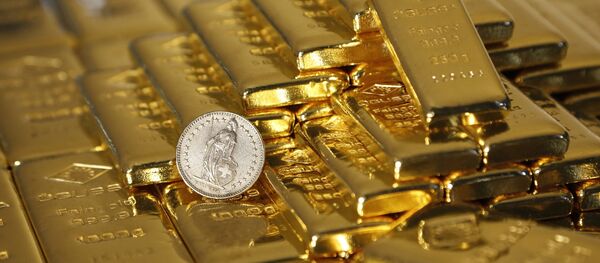 4 December 2014, 14:43 GMT
MOSCOW, January 19 (Sputnik), Kristian Rouz –
One of the top-valued metal commodities and a universal monetary equivalent, gold, is heading to exceed the psychological threshold of $1,300/oz., as investors in Asia-Pacific and Europe are gravely concerned with the sudden fluctuations in the Swiss national currency's FX rate and today's crash in mainland China's stock markets.
To further exacerbate the situation, the franc is one of the five global reserve currencies, and its nearly 20% appreciation starting 15 January has painfully hit a wide variety of asset classes worldwide, putting some of them on the edge of becoming 'toxic assets'. China, at least up until recently, used to be a locomotive of global manufacturing, generating an immense demand for natural resources. Now, the financial turmoil in Shanghai and Shenzhen only adds to the bitter situation in various global commodities markets, mainly oil.
The alarming situation on global markets has prompted investors to search for safe havens for their money, and while the uncertainty in the global markets, except for the US, prevented investors from excessively buying stock in Europe or Japan, gold has become one of the most yearned-after assets.
According to Bloomberg data, gold rose 0.27% against the dollar and 0.48% against the euro, to 1,276 USD/oz. and 1,101 EUR/oz. Earlier today gold reached $1,283/oz., its highest since early September last year. Gold rose 4.7% during the week ending on 16 January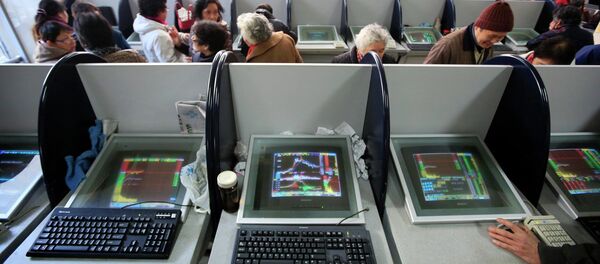 19 January 2015, 07:24 GMT
The Swiss National Bank (SNB) cancelled the Franc's peg to the euro ahead of the January 22 policy meeting at the European Central Bank (ECB). The ECB is widely anticipated to announce stimulus measures, triggering a slump in the euro FX rate, therefore the Swiss opted to let their currency appreciate rather than go down with the euro.
"While gold tends to weaken with the euro, which is expected to fall further against the dollar as the ECB looks set to announce quantitative easing this week, gold also benefits from haven demand because of the uncertainties," Huang Wei of Huatai Great Wall Futures Co, said as quoted by Bloomberg. "We expect gold to be supported ahead of the elections in Greece and seasonal Lunar New Year demand."
Gold is widely anticipated to appreciate further, going up beyond $1,300/oz.
"My personal target is $1,300 plus, but if we touch the resistance point of $1,320, we should see the gold market go beyond. It would be a trend breaker," Pradeep Unni of Richcomm Global Services in Dubai told the National.
Gold's role as hedge instrument has been increasing since the global recession of 2008, but at this point, amid the speculations about a possible re-monetization of gold, the yellow metal is universally perceived as a safe haven against financial shocks and short-term turmoil.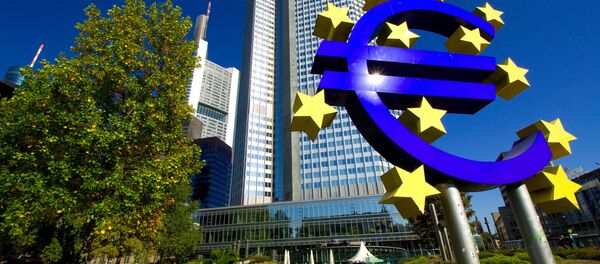 15 January 2015, 15:13 GMT
"Gold physically-backed ETF (Exchange Traded Funds) inflows… if sustained will likely support higher gold prices in the medium-term," Victor Thianpiriya, ANZ analyst,
told
Reuters
.
Most central banks around the world are expected to increase their gold reserves this year, contributing to a growth in prices. Russia's gold reserves are exploding, beating their level of August 2013 and reaching $46 bln. Eurosystem has also accumulated some gold last year.
 However, as the gold is now nothing more than a relatively safe way to preserve investment assets in times of market volatility, gold prices are likely to go down as soon as  monetary policies in the Eurozone and Japan become clearer, and China overcomes its structural misconceptions. In a safer-than-now global investment environment few market participants would need such an illiquid and inflexible asset as the aforementioned yellow metal commodity.
© Sputnik
European Countries Repatriate Gold Bullion Reserves from Overseas Vaults
European Countries Repatriate Gold Bullion Reserves from Overseas Vaults