MOSCOW, January 27 (Sputnik), Anastasia Levchenko — The recent proposal by the US Transportation Security Administration (TSA) to include screening of passengers' social media accounts in security control procedures at airports will severely infringe freedom of speech, Joe McNamee, Executive Director of European Digital Rights (EDRi), told Sputnik on Tuesday.
According to the proposal, made in December 2014, TSA suggests that the so-called PreCheck program would involve collecting location data and information that individuals post on blogs and social media websites.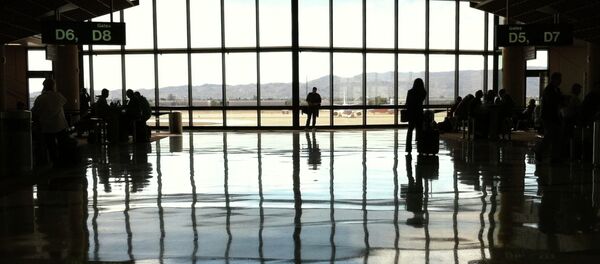 27 January 2015, 20:05 GMT
"This is very disturbing from a free speech perspective. It will be logical for anyone that is planning to rely on the TSA for any purpose to carefully self-censor any statement — or even any purchase — that could be misinterpreted and raise a flag as to their acceptability," McNamee told Sputnik.
It was also proposed by TSA to collect such data as purchase information, customer lists from registration websites, and "self-reported information".
"The amount of surveillance of online activities has already caused significant damage to free speech," McNamee said, adding that collecting "useless" data could hardly be useful for security checks.
The TSA PreCheck program allows passengers at airports to cut the time spent in screening lines. They can bypass the long lines for a fee of $85, given they have passed a background check, submitted their fingerprints and were assessed as a low-threat to security. The proposal aims to make security screenings faster and easier, but also to raise the efficiency of identifying potential terrorists.