MOSCOW, January 28 (Sputnik) – Jordan has agreed on an exchange of pilot Kaseasbeh held hostage by the Islamist militants, for Sajida al-Rishawi, female suicide bombing suspect who has been in prison for the past decade.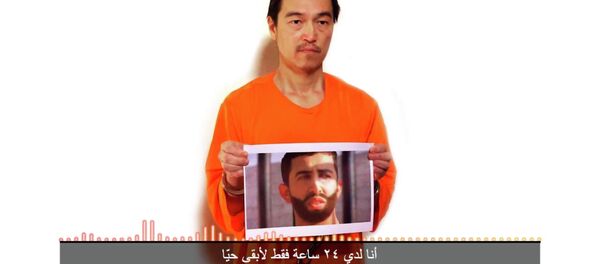 27 January 2015, 17:00 GMT
"Jordan is ready to release prisoner Sajida al-Rishawi if the Jordanian pilot Lieutenant Muath al-Kasaesbeh was released and his life spared," Mohammad al-Momani, a government spokesperson, was quoted on state television as saying, Reuters reported.
Al-Momani made no mention of Goto.
Earlier today, Al-Jazeera quoted Japan's deputy foreign minister as saying that the prisoner swap deal had been reached and Goto was to be freed "within hours". The
Japanese embassy later denied the comment, as reports IBT Times.
Japanese officials have held intense daily discussions with their counterparts in Amman for several days, but have said virtually nothing in public about the nature of those talks. Jordan's leaders had come under intensifying pressure from both Japan and Kaseasbeh's family to agree to IS' demand and free Rishawi.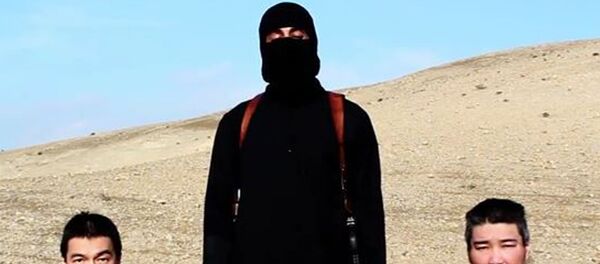 21 January 2015, 09:48 GMT
Leaders of Jordan's powerful tribes had also pushed the government to agree to the swap to spare the life of Kaseasbeh, reports CBS News.
Earlier, in Japan, Goto's mother made an emotional appeal for Prime Minister Shinzo Abe to work with his Jordanian counterparts to secure her son's release.
"Please save Kenji," pleaded Junko Ishido in a tearful public statement. "Kenji has only a little time left."
Islamic State' interest in Rishawi possibly is connected to her links to the slain founder of al Qaeda in Iraq, the group which would eventually morph into IS, reports the Washington Post.