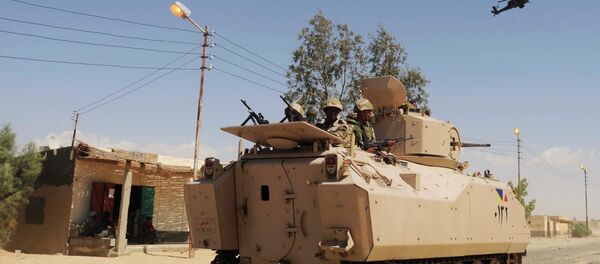 23 December 2014, 15:02 GMT
MOSCOW, January 30 (Sputnik) – A coordinated bomb attack on Egyptian security forces by the Islamic State in Egypt has left at least 26 dead; meanwhile, the death toll still being counted in one of the deadliest terrorist attacks to be carried out by the jihadist militants since they took root in the Sinai Peninsula in 2013.
"Terrorist elements have attacked several police and army headquarters and facilities using explosive-laden vehicles and rockets," said the Egyptian military, according to AFP. "An exchange of fire is ongoing and the elements are being dealt with."
Military sources told the agency that the attacks were carried out in El-Arish, the capital of Egypt's North Sinai Province, where the jihadist insurgency has surged since the overthrow of Muslim Brotherhood-backed President Mohamed Mursi in June 2013. A military base, army checkpoint, police headquarters and accommodation for members of the police and army were targeted in a string of attacks over several hours on Thursday evening.
Al-Ahram, the flagship government newspaper, has stated that its offices, which are situated opposite the military buildings, were "completely destroyed" in the attacks. Reuters reported that a roadside bomb detonated on Thursday in Suez City, capital of the Suez Governate, killing one police officer.
The Egyptian government, which is headed by President Abdul Fattah al-Sisi, the former head of the country's armed forces, stated that the bombings were the consequence of its crackdown on anti-government activity in the Sinai Peninsula, where security forces have often been the subject of strikes by militants. Thursday's attack was the deadliest since last October, when at least 26 people died at a military checkpoint in North Sinai.
Egypt's most powerful terrorist organization, "Sinai Province", is reported to have claimed responsibility for the attacks on its Twitter page. Previously known as Ansar Bayt al-Maqdis, the group released a statement pledging allegiance to the Islamic State led by Abu Bakr al-Baghdadi in November.