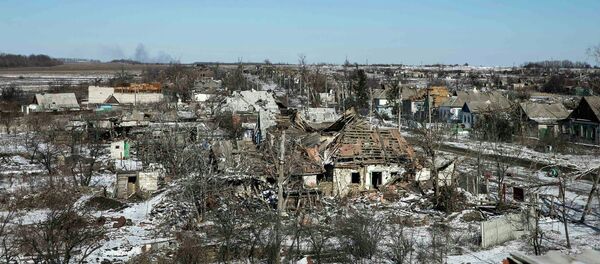 18 February 2015, 19:21 GMT
MOSCOW (Sputnik) – Approximately 3,000 Ukrainian troops were killed during battles in the city of Debaltseve, the east Ukrainian self-proclaimed Donetsk People's Republic's negotiator said Thursday.
"We emphasized the issue of resolving the 'surrounding of Debaltseve' back [when we were] in Minsk, and the heads of the DPR and LPR (Luhansk People's Republic) wanted to sign the solution to this problem in order to save the lives of thousands of Ukrainian soldiers, but Kiev did everything possible to brush this off by saying that the situation was under control and they weren't interested in the lives of so many military personnel," Russkaya Sluzhba news agency cited Denis Pushilin as saying.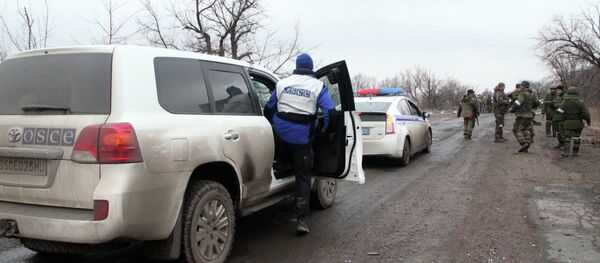 18 February 2015, 19:45 GMT
Pushilin did not express the timeframe of the battle he had in mind.
The eastern Ukrainian self-proclaimed Donetsk People's Republic is prepared to guarantee the Organization for Security and Co-operation in Europe's mission safe passage into the area of Debaltseve as soon as sabotage-reconnaissance groups are cleansed, Denis Pushilin added.
"Over the last three days, the OSCE mission has been trying to get a guarantee of safety from us to get to Debaltseve, but taking into consideration the fact that they are trying to leave from the city of Soledar, which is under control of the Ukrainian side, we couldn't give them these guarantees because we don't have that ability and don't belive it's appropriate to take on the responsibility that the Ukrainian side won't fire at them," Pushilin said.

18 February 2015, 17:42 GMT
He said there are sabotage-reconnaissance groups in the area of Debaltseve and as soon as they are cleared out, then the DPR would be able to make guarantees for the OSCE mission.
"As soon as the city is cleansed of sabotage-reconnaissance groups, we'll be able to give the OSCE mission a safety guarantee," he said.
Debaltseve, a key transport hub in Ukraine's southeast, has been at the epicenter of intense fighting with thousands of Kiev troops encircled there by Donbas militia for weeks.