MOSCOW (Sputnik) – Russia's Emergencies Ministry has delivered 100 tons of humanitarian aid to the eastern Ukrainian self-proclaimed Luhansk People's Republic, a deputy head of the ministry's national center on crisis situations said Friday.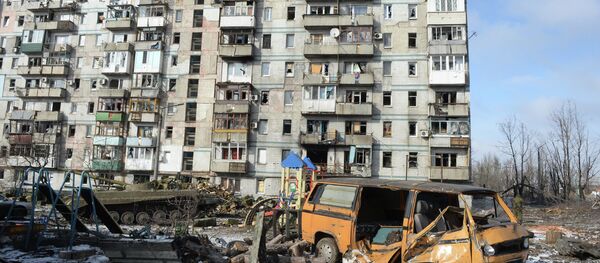 20 February 2015, 01:31 GMT
"Fifteen trucks delivering more than 100 tons of humanitarian aid, most of which is foodstuffs and children's food, have arrived in Luhansk," Oleg Voronov said.
After unloading the humanitarian aid, the trucks will return to Russia.
This is the 15th humanitarian aid convoy, sent by Russia to Donbas, suffering a humanitarian crisis due to a military operation launched by Kiev against independence fighters in April 2014.
In total, Russia has sent over 20,000 tons of food, grain, water, clothes, medicines, power generators and building materials to Donetsk and Luhansk self-proclaimed republics since August 2014.