GENEVA (Sputnik) – German and French delegations arrived in Geneva for the P5+1 plenary session on the disputed Iranian nuclear program, a Sputnik correspondent reported Sunday.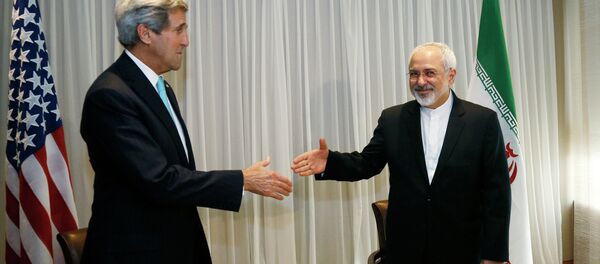 22 February 2015, 16:04 GMT
The meeting of deputy foreign ministers of Iran and P5+1 group, comprising five permanent members of the UN Security Council and Germany, will be held at 8:00 p.m. local time [19:00 GMT], a source in the Iranian delegation told Sputnik.
The US Secretary of State John Kerry and Iranian Foreign Minister Mohammad Javad Zarif are currently holding informal talks on the banks of Geneva Lake after a meeting behind closed doors at Geneva's Hotel President Wilson.
The UN Security Council and individual countries have adopted a number of tough sanctions against Iran, suspecting it of developing nuclear weapons. Tehran rejected those claims, stating that its uranium enrichment program had only civilian implications.
Iran and the P5+1 group have held several rounds of talks on Tehran's nuclear program in recent years with limited results. The long-term agreement has to be reached by July 2015.