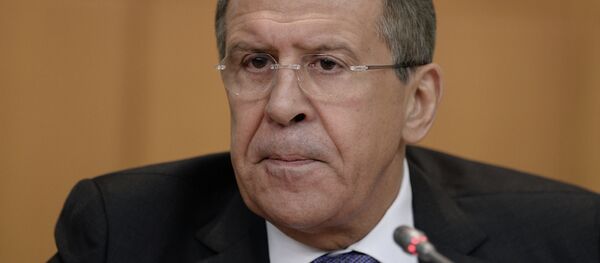 23 February 2015, 15:41 GMT
PARIS (Sputnik) – Russian Foreign Minister Sergei Lavrov has arrived in Paris to participate in the Normandy format talks on settling the Ukrainian crisis, RIA Novosti reported Tuesday.
The foreign ministers of Ukraine, Russia, France, and Germany will meet at the French Foreign Ministry at approximately noon in Paris.
Lavrov arrived in Paris after his visit to New York for debates in the United Nations on the issue of international security.
On February 12, Russian President Vladimir Putin, Ukrainian President Petro Poroshenko, French President Francois Hollande, and German Chancellor Angela Merkel worked out a Ukrainian reconciliation deal during talks in Minsk.
The 13-point agreement stipulated a ceasefire from February 15, a buffer zone as well as the pullback of heavy weaponry by both sides from the line of contact.
The truce in Donbas entered in force as agreed in Minsk. Since then, both sides have accused the other of violating the ceasefire in particular areas. However, according to the OSCE monitors the ceasefire was generally holding.
On Monday spokesman for the Ukrainian Foreign Ministry Yevhen Perebyinis said that during their Paris meeting, the foursome of foreign ministers will focus on the implementation of the Minsk agreements and withdrawal of heavy artillery in Donbas.