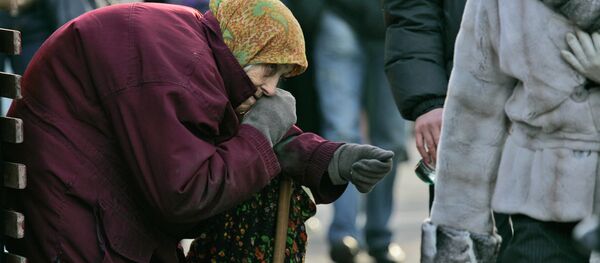 25 February 2015, 11:28 GMT
Ekaterina Blinova – The rapid devaluation of the hryvnia has triggered a panic amongst Ukrainian consumers, prompting people to "storm" supermarkets and pharmacies.
The Ukrainian currency has already lost 70 percent of its value, triggering a "consumer panic" in the country. Ukrainians are stockpiling food and medicine, scouring the shelves for sugar, cooking oil, flour, canned products, cakes and frozen chickens. Most of these products have already disappeared from Ukrainian stores.
Local media outlets depict a gloomy picture of people standing in queues for hours, cursing and jostling each other. The panic has emerged in the last few days in Kiev and other cities of the country: cheap products such as coffee, tea and sunflower oil have vanished from the shelves due to consumer hysteria.
Ukrainian stores have already introduced rationing of basic products in order to reduce the negative impact caused by the nationwide panic. Restrictions have been introduced for goods like cooking oil, flour and sugar; with retailers allowed to sell only two bottles of oil and three to five kilograms of flour and sugar per person.
Experts warn Ukrainian consumers against stockpiling flour and cereals, suggesting that the cost of these products is unlikely to rise drastically. They recommend buying caviar, medicine and alcohol – products which are becoming more and more expensive due to the hryvnia's continuous slide.
Meanwhile, the exchange rate of the hryvnia is falling steadily. The gap between the US dollar and the Ukrainian currency has widened tremendously over the past two days. Banks are currently buying the dollar for 32.8 hryvnias and selling it for 26.5 hryvnias, trying to slow down the speed of the devaluation.
Ukraine is in a deep political and economic crisis, balancing on the brink of default. The hryvnia's sharp devaluation is only adding fuel to the fire, making the prospects of the country's economy bleak and unpredictable.