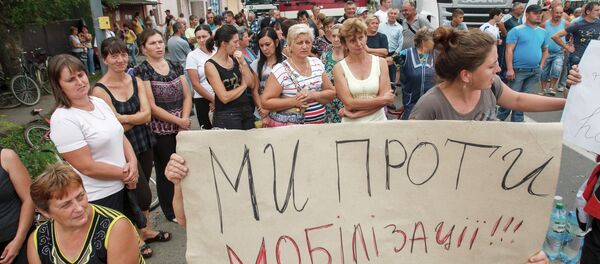 4 February 2015, 13:55 GMT
Ekaterina Blinova — Almost 94 thousands of inhabitants of Zakarpattia region in western Ukraine have obtained Hungarian citizenship through the country's Simplified Naturalization program.
According to Janos Arpad Potapi, Hungary's Secretary of State, almost 670 thousand people have passed the naturalization procedure, Hungarian media sources report. In general, more than 710 thousand ethnic Hungarians living abroad have made applications in order to obtain Hungary's citizenship.
"66 percent of the new citizens came from Transylvania, 17 percent from Vojvodina and 14 percent from Zakarpattia," the Secretary of State elaborated.

29 January 2015, 10:13 GMT
The initiative is supported by the Bethlen Gabor Fund operating in several European regions including Zakarpattia. Almost 17,5 billion Hungarian Forints ($65 million) have been allocated by Budapest for the Fund's activities in 2015. This year, the program has been expanded, targeting such countries as Cyprus, Greece, Italy, Portugal and Spain.
Experts point out that Ukrainian males are crossing borders into Russia, Poland, Donetsk and Luhansk Republics trying to escape from military mobilization launched by Kiev. In the beginning of the year Ukrainian authorities unveiled a plan to mobilize nearly 104,000 men aged 20-60 to continue the so-called "anti-terrorist campaign" in eastern Ukraine.