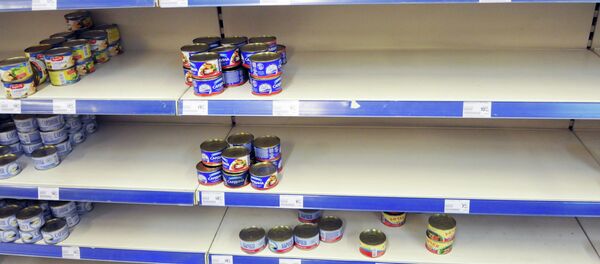 26 February 2015, 17:42 GMT
The list of demands includes, among other things, measures to alleviate the plight of borrowers who took out loans denominated in foreign currency as the hryvnia's exchange rate is rapidly falling.
These include a law enabling them to repay loans at the exchange rate valid at the time when they took them out.
The demonstrators set up tents, brought chairs and installed a table for the distribution of food and drinks.
Ukrainian media said earlier citing parliamentary sources that Gontareva could be sacked during an emergency session of the Ukrainian parliament, Verkhovna Rada, scheduled for March 2.
The demands for the resignation of the country's central banker come against the backdrop of a catastrophic depreciation of the national currency, which has lost 50 percent of its value since January 1 and a whopping 80 percent over the past twelve months.
The Central Bank took additional measures to rectify the situation, but to little avail.
Prime Minister Arseniy Yatsenyuk then asked the MPs to hold an emergency sitting to look at the situation on the financial market.