GENEVA (Sputnik) — The final stage trials of a vaccine against Ebola will kick off on March 7 in Guinea, the World Health Organization (WHO) said Thursday.
"WHO with the Health Ministry of Guinea, Médecins Sans Frontières (MSF), Epicentre and The Norwegian Institute of Public Health (NIPH), will launch a Phase III trial in Guinea on 7 March to test the VSV-EBOV vaccine for efficacy and effectiveness to prevent Ebola," the press release on the WHO website revealed.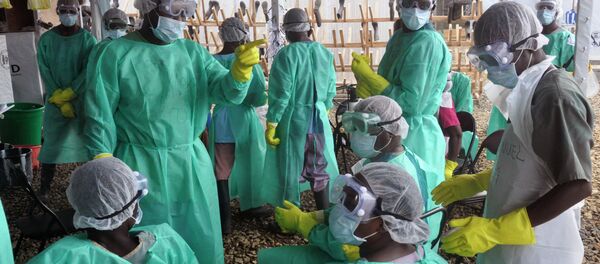 27 February 2015, 17:23 GMT
The VSV-EBOV vaccine is already being tested in Liberia. In Guinea, the first vaccinations will be held in the region of Basse Guinee, where the highest number of cases in the state has been recorded since the start of Ebola epidemic in 2014, according to the WHO.
Health workers in Guinea will apply a so-called "ring vaccination" principle that was used in the 70s to tackle smallpox infectious disease. This approach stipulates that all susceptible individuals in a prescribed area around an outbreak will be vaccinated.
Ebola is a deadly disease that spreads through direct contact with the bodily fluids of an infected person, or though contact with contaminated clothing or possessions. Three West African countries Guinea, Liberia and Sierra Leone suffered most from the virus.