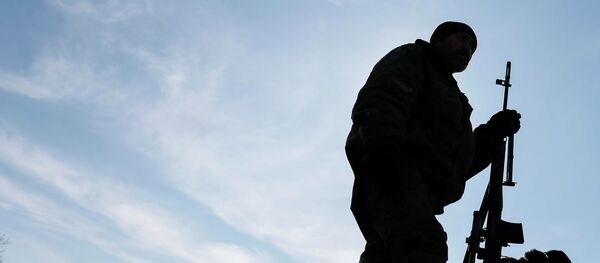 28 February 2015, 13:26 GMT
Ukrainian hacking collective CyberBerkut has reported that they have obtained a series of documents from the Ministry of Information Policy in Mariupol, featuring correspondence about the need for a pro-Ukrainian social-psychological propaganda campaign, and noting that a "sweep" of the city is taking place.
According to the group, over 100 people have been arrested over the past few days.
CyberBerkut claims to have obtained correspondence belonging to Ukrainian Ministry of Information Policy Minister Tatyana Popova, one of which recommends a "pilot project of military-civilian administration" in the embattled city.
"Everything began with an analysis of the information environment in Mariupol, reported to Tatyana Popova," the hackers reported. This analysis, which "reads more like a denunciation," was prepared by social psychologist Oleg Pokalchuk, who reported that the city lacks pro-Ukrainian propaganda, that the Greek community there is pro-Russian, and that the priests of the Moscow Patriarchate of the Orthodox Church are carrying out anti-Ukrainian subversive activities. Popova advised her colleagues to pay "close attention" to Pokalchuk's report.
CyberBerkut promised to publish more of the internal correspondence between the Ministry and its workers at a later date.
It was earlier reported that Ukrainian authorities were looking to "root out informants" accused of passing sensitive information to anti-Kiev militia. Media have spoken of residents being taken away for questioning, some by armed men offering no official identification papers.
CyberBerkut is a group of hackers opposed to the current government in Kiev. Since the start of the conflict in Ukraine, the group has conducted a series of high-profile hacks. It has recently reported on the details of US plans to send arms to Ukraine, revealed information revealing the high casualty figures among Ukrainian army, information about snipers on Maidan Square, and Victoria Nuland's famous "F**k the EU!" exchange with US Ambassador Geoffrey Pyatt.