MADRID (Sputnik) — The issue of fracking, or hydraulic fracturing, will play a crucial role in the signing of the Transatlantic Trade and Investment Partnership (TTIP) between the European Union and the United States, Spanish non-governmental organization, Ecologists in Action, told Sputnik.
"Fracking, and all the industry, plays a crucial role in the TTIP. Stakes are high," Ecologists in Action member, Mariano Gonzalez Tejada, said Friday.
The fact that the technique is highly popular in the United States is now being used to convince Europeans to use fracking as well, Gonzalez said.
"The United States had become the testing ground for the extraction of gas through fracking. This is an example, which the industry uses to convince the European Union's governments to use this technique of gas extraction," Gonzalez explained.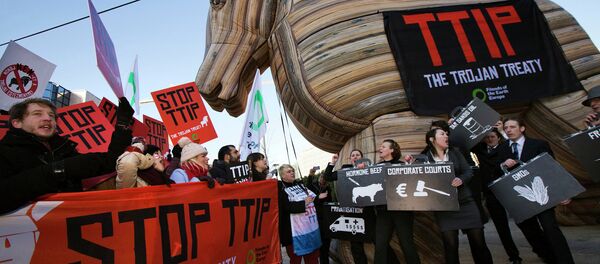 Gonzalez said that although energy companies say that fracking is less dangerous for the environment, in reality it is simply yet another way to make more money.
Gonzalez once again highlighted that from an ecologists' point of view, fracking is extremely dangerous and its impact on the environment could be "catastrophic."
Fracking is a technique for the extraction of shale gas through the high-pressure injection of a toxic fluid mixture deep underground. It is widely considered to be dangerous for the environment. Environmental experts have proven that the toxic materials contained by fracking fluid contaminate the groundwater.