Pirate parties, which have been formed in countries across the world, stand for civil rights, direct democracy, open content, information privacy, transparency, freedom of information, anti-corruption and network neutrality.
The Pirate Parties International Foundation helps establish Pirate parties around the world — and it appears their popularity is growing, especially in Iceland.
A new survey by MMR has revealed that the Pirate Party would receive almost a quarter (23.9) of votes if an election was to be held now.
The Independence Party would come in at a close second with 23.4 percent of votes. The Alliance Party would receive 15.5 percent of the votes and the Progressive Party would receive 11 percent of the votes. The Left Green Party would get 10.9 percent and other political parties would receive just two percent of the votes.
So this makes Iceland's Pirate Party just about the largest political party. Leader Birgitta Jonsdottir says: "I am without words and thankful for the trust shown to us. We will keep on trying to do our best," she added.
"To be honest, I don't know why we enjoy so much trust, we are all just as surprised, thankful and take this as a sign of mistrust towards conventional politics," says Birgitta.
"Traditional politics have not shown progress and people are tired of waiting for change. It is good that people are rejecting corruption and hubris."
It's little surprise people are rejecting the divine intervention of mainstream political parties. According to a survey carried out by Iceland's largest newspaper, Frettablaoio, people are becoming more interested in issues connected to personal privacy and freedom of information. Another policy includes granting US whistleblower Edward Snowden Icelandic citizenship.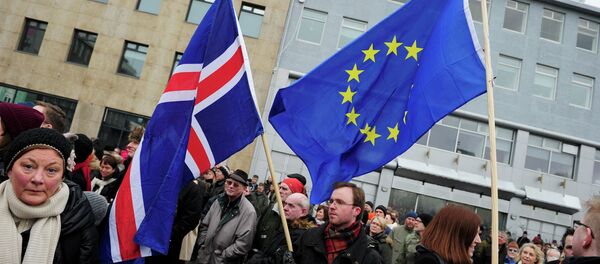 The Pirate Party is neither for nor against accession to the European Union, it does however possess a policy on the EU.
It says Iceland must never become a member of the EU without a referendum first and sets out conditions for Iceland's membership that Iceland be exempt from adopting the Date Retention Directive and the regulation regarding enforcement of uncontested claims.