MOSCOW (Sputnik) — The Organization for Security and Co-operation in Europe (OSCE)'s Special Monitoring Mission said on Saturday it was denied access to an east Ukrainian territory controlled by Ukrainian armed forces, according to OSCE's fresh situation report.
The SMM said it was stopped Saturday at a government-controlled checkpoint on the northwestern edge of Luhansk.
"After 15 minutes the SMM was told that the battalion commander did not grant the SMM permission to proceed," the report said, adding the mission contacted the Ukrainian chief of staff at the government's Joint Center for Control and Coordination, who agreed to investigate.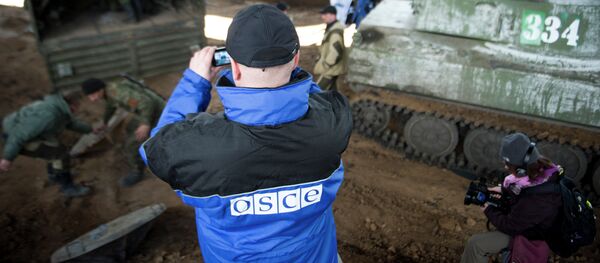 In two separate instances, Ukrainian troops stopped OSCE monitors at the entrance to the city of Mariupol and at a checkpoint near the town of Pervomaiske. They were eventually allowed to proceed, although one case required interference from the checkpoint commander.
The mission complained it is "restrained in fulfilling its monitoring functions by restrictions imposed by third parties and security considerations."
It also pointed at a "fluid" security situation in the entire Donbas region, saying ceasefire does not hold everywhere. The truce was agreed on in February at a meeting between Ukrainian, Russian and European leaders in the Belarusian capital of Minsk.
Under the Minsk deal, the OSCE security body has been tasked with supervising the pullout of heavy weapons from the line of contract in southeastern Ukraine, as well as with monitoring the situation at border crossings between Ukraine and Russia.