Turkmenistan's President Gurbanguly Berdymukhamedow began a tree-planting campaign on Saturday, which plans to plant over three million trees in the country's capital, Ashgabat, Turkmenistan's television reports.
"Over 281,000 people took part in the day of volunteering, planting over 265,000 trees. In Ashgabat, 34,000 participants planted over 93,000 trees. In the wilayats (provinces) 247,500 people planted around 172,000 trees," Turkmenistan's state news agency reported.
The plan is part of an environmental campaign called the "Green Development Strategy," which aims to put the natural gas-rich, arid country on a track of sustainable economic and environmental development.
Ashgabat residents take part in the tree-planting campaign.
The primary goal of the tree-planting is to create new forest and park zones as the country's cities expand. Also during the planting, President Berdymukhamedow told the Chairman of the Cabinet of Ministers and the Mayor of Ashgabat to develop a plan for the creation of new recreational areas and the introduction of "green construction" techniques.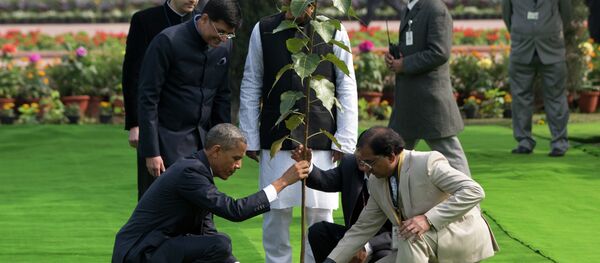 20 February 2015, 10:55 GMT
Other than ordinary residents and non-government organizations, the participants included members of the country's Cabinet of Ministers, heads of the parliament, as well as diplomats from other countries.
In addition to the planting new trees, volunteers took care of trees that were previously planted, which amount to roughly 1,134,000 trees. The event coincided with Nowruz, a festival which celebrates the first day of spring in many Muslim countries.