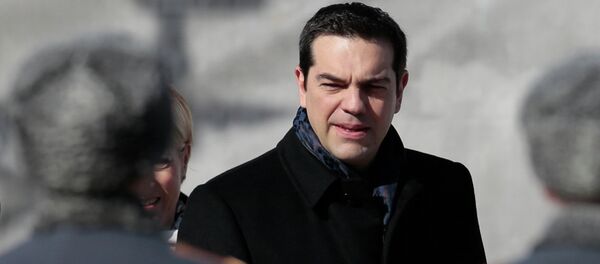 MOSCOW (Sputnik) — Russian President Vladimir Putin and Greek Prime Minister Alexis Tsipras will discuss the possibility of connecting Athens to the Russian-Turkish gas pipeline, according to the materials for the leaders' meeting in Moscow.
"During the talks, a discussion is planned of the possibility to connect Greece to the new Russian-Turkish gas pipeline (Turkish Stream) along the bed of the Black Sea… This would provide tangible benefits to Greece from the possible transit shipments to Europe, and ensure energetic security of the country and the region as a whole," the materials said.
Tsipras arrived in Moscow for a state visit at the invitation of President Putin. The sides are expected to meet later in the day.
Last week, Greek Energy Minister Panagiotis Lafazanis said that Athens supports Russia's planned Turkish Stream pipeline project, as well as extending the gas route to Greece.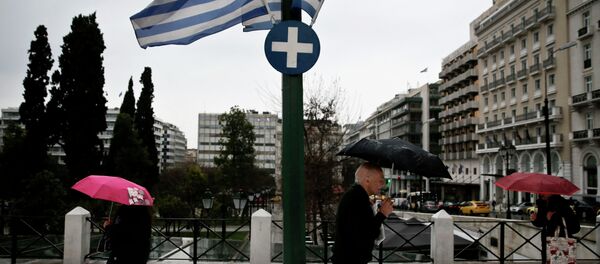 Russia and Turkey signed a memorandum of understanding on the construction of the gas pipeline between the two countries under the Black Sea in December 2014. Greece is crucial to the project as it will host a distribution hub on its soil to allow further passage of gas to consumers in southern Europe.
According to media reports, Putin and Tsipras may also focus on possible discounts on Russian natural gas for Greece. Following last week's talks with Russian Energy Minister Alexander Novak and Russian energy company Gazprom CEO Alexei Miller, Lafazanis said that Athens had asked for a cut in its price for Russian natural gas.
Athens also hopes Moscow will lift its embargo on Greek food imports. Russia imposed an import ban on all countries within the European Union, after sanctions were introduced by Brussels against Russia over its alleged role in the Ukrainian crisis.
Tsipras has repeatedly expressed disappointment over Western anti-Russia sanctions, saying that the measures are ineffective.