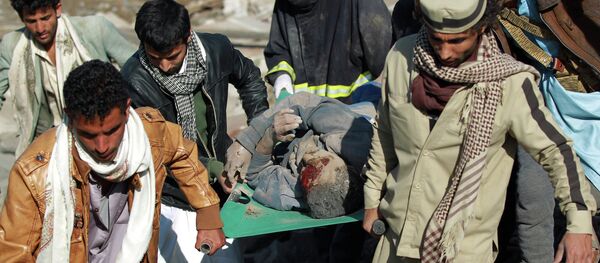 MOSCOW (Sputnik) – The International Red Cross has received authorization to send surgeons to Yemen, the organization said on its Russian Twitter account on Wednesday.
Yemen is currently experiencing violent clashes between the Houthi militants and forces loyal to President Abd Rabbuh Mansur Hadi. In late March, a Saudi Arabia-led international coalition launched airstrikes against Houthi positions in Yemen upon Hadi's request.
"We have received all the necessary permission to send our planes with aid and ships with surgeons to Yemen," the tweet reads.
On Saturday, the International Committee of the Red Cross (ICRC) called for a humanitarian ceasefire in Yemen to allow for the delivery of aid to the country's suffering population. The organization said it was ready to provide food and water, as well as medical care for those in need.
The Saudi Arabia-led coalition on Sunday granted the ICRC permission to deliver aid to Yemen.
At least 1,700 people have been injured and more than 540 killed in hostilities in Yemen since March 19, the World Health Organization said Tuesday.