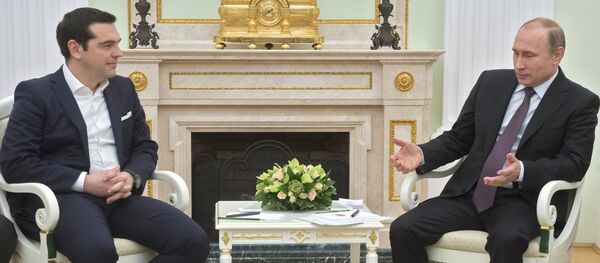 MOSCOW (Sputnik) — The Turkish Stream gas pipeline could help Greece become one of the main power distribution centers in Europe, President of Russia Vladimir Putin said.
"Of course, we have discussed the prospects of realization of the large infrastructure project which we call Turkish Stream — a key project for transporting Russian gas to the Balkans, maybe to Italy, the countries of Central Europe," Putin said at a joint press conference with Greek Prime Minister Alexis Tsipras.
"The new route will provide for the Europeans' needs in fuel, and would allow Greece to become one of the main power distribution centers on the continent, could help attract significant investments into the Greek economy," Putin said.
The Russian president added that Greece could earn hundreds of million of euros for gas transits annually if it joins the Turkish stream pipeline project.
In turn, Tsipras said that Athens is interested in attracting investment in construction of the a pipeline on its territory to handle gas coming through the Turkish Stream.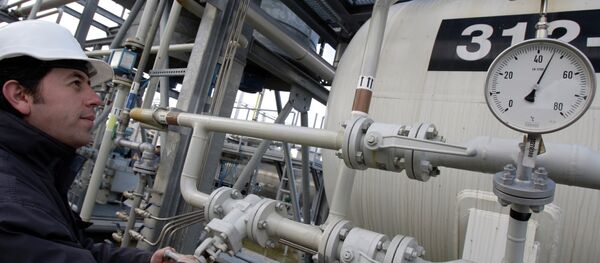 Tsipras added that Greece is interested in energy cooperation with Russia to meet the country's energy demands and contribute to European energy security.
In December 2014, Russian energy giant Gazprom CEO Alexei Miller announced that a new Turkish Stream pipeline to Turkey with an annual capacity of 63 billion cubic meters of gas will be constructed. Around 14 billion cubic meters of gas will be supplied to Turkey, with the rest being pumped to a hub on the Turkish-Greece border for customers in Europe.
The announcement came after Russian President Vladimir Putin said that Russia was not willing to continue the implementation of the South Stream gas pipeline project in light of the European Commission's "non-constructive" stance on the matter.