When the dust finally settles and reality sinks in, the Western mainstream media will likely retreat from their assessment that Tsipras' visit to Moscow was a dud. Although it didn't secure the millions in magical bail-out money that they were nervously half-expecting it would, it doesn't mean it was a failure. Actually, quite the opposite is true – precisely because it
didn't
result in a short-term monetary solution but something far more lasting and practical makes it an astounding success whose fruits will surely blossom in the coming months. Here are the top three take-aways from Tsipras' monumental visit to Moscow:
Special Relationship
Russia and Greece affirmed their special relationship built on years of historic friendship, and Greece emphasized that it will help both sides capitalize on this by working as an intermediary in reconciling East-West ties and lobbying against the anti-Russian sanctions. To illustrate the qualitative depth of their relations, Putin gifted his guest an historic icon of Saints Nicholas and Spyridon that had previously been looted during the Nazi occupation. In one fell swoop, the Russian President was able to touch upon the two countries' historic Orthodox roots and shared memory of suffering in World War II.
Speaking of World War II, Tsipras will be returning to Moscow on 9 May to commemorate the 70th anniversary of the Allied victory, rebuffing American and EU pressure not to and loudly demonstrating that Greece will independently pursue its own sovereign policies.  
Infrastructure Investment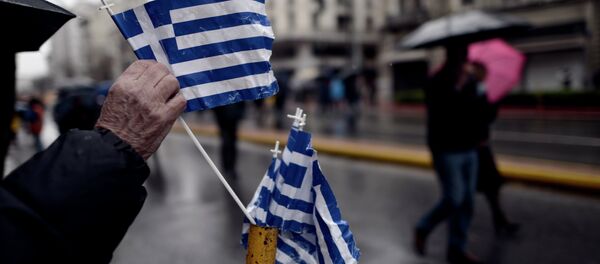 A more tangible result of the Tspiras-Putin Summit was Russian interest in partaking in Greece's privatization process in the future. The Russian President said that his country would like to invest in the Balkan state's infrastructure, specifically its ports, airports, and pipelines, and such a move would not only deepen the ties between the two historically close countries, but would obviously inject huge amounts of much-needed capital into the economy and provide Athens with the additional cash needed to help pay off its debts. Should it come to pass, Russia's purchasing of Greek assets would take the bilateral relationship to a whole new level, as it would signify that the Eurasian giant has solid interests in Greece's success that would likely foreshadow continued investment in the future.
Balkan Stream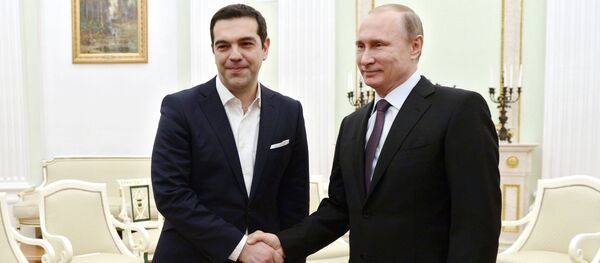 The most landmark aspect of Tsipras' visit and the one which will have the most profound impact on international affairs was the proposal for Greece to become a gas hub linking Italy and the Balkans with Russian resources from Turkish Stream. The author previously termed this specific leg of the project
Balkan Stream
owing to the fact that it's a politically neutral name that would be acceptable for all partners, and the Greek Prime Minister also agreed that a new name would be more appropriate for the pipeline's regional expansion.
When Putin referred to a "Turkish Stream" traversing Greek territory, Tsipras clarified that "there will not be any Turkish Stream in the Greek territory but a Greek pipeline…We cannot accept the "Turkish Stream" name, but we consider that the project would improve our relations with Turkey."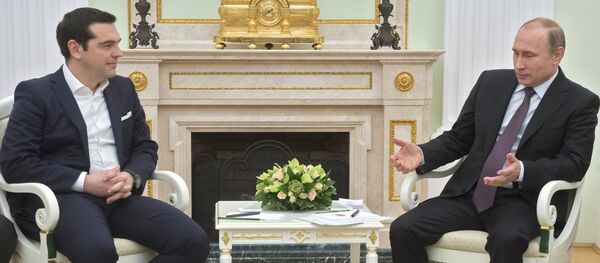 No matter what name the final project is given, its salience lies not only in potentially generating "hundreds of millions of euros a year" as Putin forecast, but it would also "allow Greece to become one of the main power distribution centers on the continent, (and) could help attract significant investments into the Greek economy." In a word, Balkan Stream would become the
anchor
of the country's economy and would represent the infrastructure project with the longest lasting legacy of benefit for Greece. But Athens doesn't have to wait until after the pipeline is built in order to reap the resultant dividends, as Greek sources have informed Reuters that there's currently talk of Russia giving Greece advance funds in anticipation of future profits. If realized, then this plan would essentially represent the loan that the media initially speculated upon, except with a geopolitical twist characteristic of masterful Russian diplomacy and conditions that are far better suited to Greece's long-term needs.