VLADIVOSTOK (Sputnik) – Russian President Vladimir Putin declined to comment on the possibility of Moscow recognizing the self-proclaimed people's republics of Donetsk and Lugansk (DPR and LPR) when the issue was brought up by the host of the "Vesti v Subbotu" (Saturday News) television program.
"I do not want to comment on this right now, because regardless of what I say, it could be counterproductive. We will look at the realities that emerge."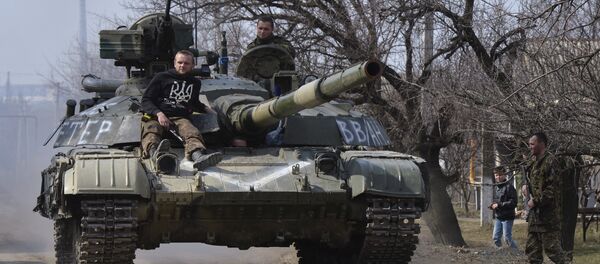 Kiev launched a military operation in Donbass in mid-April, 2014, after local residents refused to recognize the new authorities that came to power after the February overthrow of former Ukrainian President Viktor Yanukovych.
On May 11, referendums were held in southeastern Ukraine on the status of the Donetsk and Lugansk regions, following which the self-proclaimed DPR and LPR republics were established. On May 24, the self-proclaimed republics signed a treaty of association into Novorossiya, a union of the people's republics.
DPR and LPR held elections of regional heads and legislative bodies on November 2. The elections were not recognized either by Kiev or its Western allies.