MOSCOW (Sputnik) — The Stop TTIP group reports up to 20,000 protesters in Munich, while some 4,000 in Berlin formed a human chain strewn across the Potsdamer Platz square. Overall, rallies were planned in 200 cities across Germany.
"Biggest Global Day of Action against TTIP [Transatlantic Trade and Investment Partnership], CETA [EU-Canada Comprehensive Economic and Trade Agreement] & Co. ever! 734 events in 46 countries across 5 continents," the Stop TTIP movement said on its Twitter account.
TTIP and CETA are the ambitious initiatives aiming to open markets between the European Union and the United States and the European Union and Canada, respectively, to allow the easier flow of goods and services across the Atlantic.
At least 15,000 people took part in protests against a proposed free trade deal between the United States and the European Union in Munich on Saturday, Anne Daenner, spokeswoman of the Mehr Demokratie rights movement, told Sputnik.
She added that this could be one of the biggest anti-TTIP demonstrations in Europe. Daenner said that most of the speakers at the protest in Munich were representatives of nongovernmental organizations and some political parties.
According to the spokeswoman, just like in Berlin, demonstrations in Munich were very peaceful.
Reports say some 3,000 anti-TTIP demonstrators gathered in Brussels, with hundreds more from London to Lille, Helsinki and Prague.
Elsewhere in Europe, 40 events against the trade agreement were planned in Italy, over 60 in Spain, and over 70 in France, according to the movement's website, globaltradeday.org.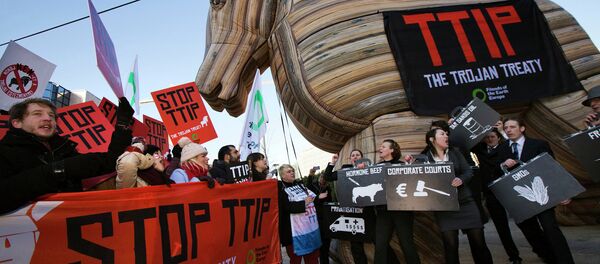 While the advocates of the agreement claim it could be mutually beneficial for economic growth, the opponents believe it will make it harder for the European states to regulate markets and, in particular, undermine the European Union's right to label genetically modified (GMO) food.
The European Commission is set to meet US counterparts in New York for TTIP negotiations next week, while CETA is pending European Parliament's approval after its signing in September.
© Sputnik / Vitaly Podvitskiy
To TTIP or Not to TTIP?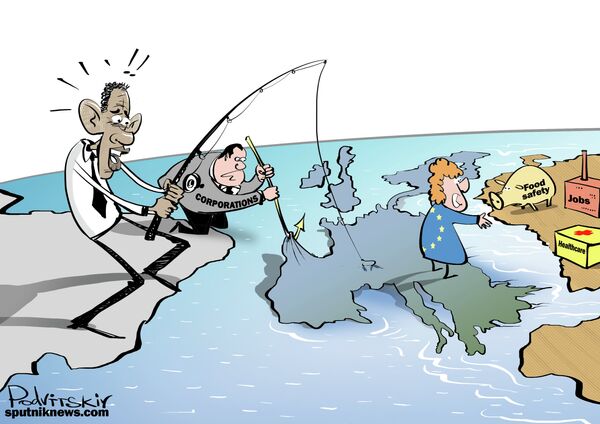 To TTIP or Not to TTIP?
© Sputnik / Vitaly Podvitskiy