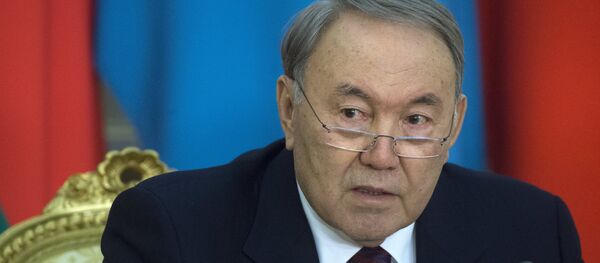 MOSCOW (Sputnik)
–
A group of members of the Syrian opposition will visit Astana on April 27 to discuss the possibility of holding intra-Syrian talks in Kazakhstan, the founder of the Movement of the Pluralistic Society, Randa Kassis said Monday.
"We, the representatives of Syrian opposition, signatories to the appeal to the Kazakh President, intend to visit Astana on April 27," Kassis told RIA Novosti.
Earlier in April, seven Syrian opposition activists officially requested Kazakh President Nursultan Nazarbayev to mediate the future reconciliation talks.
On Saturday, Kazakh Foreign Minister Erlan Idrissov wrote in a letter to the members of the Syrian opposition that Kazakhstan is "in principle" ready to provide a forum for negotiations on the peaceful settlement of the conflict in the Arab country.
Idrissov invited the Syrian opposition members to visit Kazakhstan "at a convenient day" for further discussions of Astana's possible mediation in the Syrian peace process.
Syria has been in a civil war since 2011, when an anti-government uprising started. More than 220,000 people have died in the hostilities. Various extremists groups, including the Islamic State, are fighting in the war.
Earlier in April, Moscow hosted the second round of intra-Syrian peace talks between the country's authorities and the opposition.