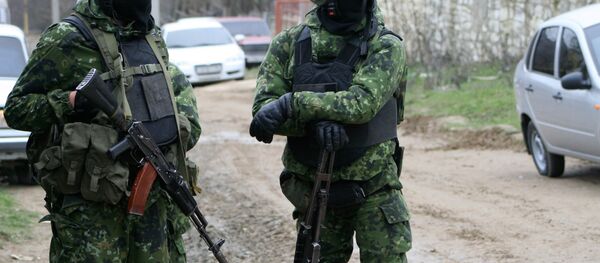 MOSCOW (Sputnik)
–
Following an anti-terrorism operation that began Sunday in Dagestan's Buinaksk, at least three bodies were recovered Monday.
One of them was identified as Aliaskhab Kebekov, who took over as the leader of the Imarat Kavkaz group following the death of its leader Doku Umarov, the other two as Dagestan militant leaders Shamil Gadzhiyev and Omar Magomedov.
"As a result of timely and coordinated actions by the FSB [Federal Security Service] and the Interior Ministry of Russia, the Imarat Kavkaz terrorist organization and militant groups active in the North Caucasus have lost their leadership," the committee said in a statement.
Imarat Kavkaz is a militant Islamist organization bent on creating an independent caliphate in Russia's Muslim-dominated North Caucasus.
A deputy head of the FSB security agency said earlier in April he had intelligence that some Imarat Kavkaz field commanders had pledged allegiance to the Islamic State (IS) militant group, mostly active in Syria and Iraq.