MOSCOW (Sputnik) — India's Ministry of Home Affairs said Sunday it has instructed the country's immigration services to provide tourists stranded in Nepal with gratis visas.
Bureau of Immigration has been instructed by the HM to give gratis visas to all tourists stranded in Nepal who are coming to Nepal

— HMO India (@HMOIndia) 26 апреля 2015
The ministry also instructed the country's border guarding force to set up camps near Nepal to provide medical help to tourists crossing the border, it said.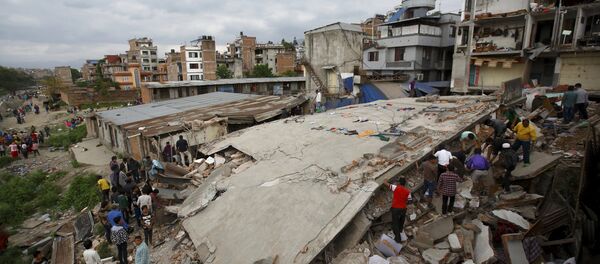 On Saturday, a 7.8 magnitude earthquake shook Nepal, causing major damage in the country and closing down Kathmandu's Tribhuvan International Airport.
The disaster has claimed the lives more than 2,000 people, according to the latest official numbers.
The earthquake and its numerous aftershocks also caused tremors in nearby Indian regions, as well as avalanches on Mount Everest, where 65 climbers, mostly tourists, have reportedly been killed.
Shortly after the deadly earthquake, India sent several teams of rescuers and planes carrying relief materials to Nepal.
Six more NDRF teams will be despatched to earthquake affected areas in Nepal. Ten teams were already pressed into action.

— HMO India (@HMOIndia) 26 апреля 2015
Countries across the world, including Russia, the United States and Israel, have offered Nepal both financial and practical assistance to cope with the devastating earthquake.