Last week, federal regulators passed new safety regulations governing crude oil transportation by rail. Environmentalist groups decried the revised regulations as too lax, warning that "they leave communities at risk of catastrophe," and instead of ensuring safety, "virtually guarantee more explosive derailments, putting people and the environment at great risk."
Residents of the small town of Heimdal in North Dakota witnessed first-hand such a catastrophe on Wednesday morning, when a BNSF railway train carrying crude oil derailed, setting ten oil tanker cars ablaze.
"I was in the house at 7:15AM when we thought we heard thunder," Witness Jennifer Wills told NBC News. "It was kinda awesome. It's kinda scary to hear it. It was like fireworks going off. You could hear little explosions going off. I sat there for 15 minutes and you could hear it going off."
No injuries or fatalities were reported from the derailment, but 40 people were evacuated from Heimdal and neighboring farms. Fire crews from three nearby towns were also called in to help deal with the damage.
The Federal Railroad Administration (FRA) sent ten investigators to Heimdal to examine the crash.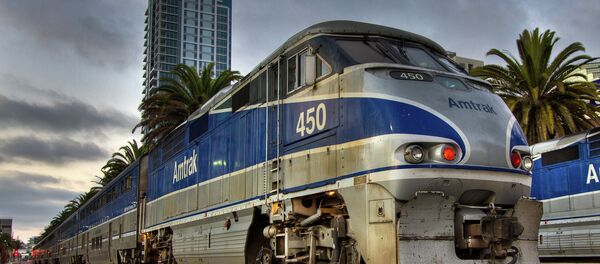 "Today's incident is yet another reminder of why we issued a significant, comprehensive rule aimed at improving the safe transport of high hazard flammable liquids," the FRA said in a statement, "The FRA will continue to look at all options available to us to improve safety and mitigate risks."
According to Valley News Live, BNSF spokesperson Amy McBeth said that the tank cars involved in the accident were "unjacketed CPC-1232 models," the same models that the revised safety regulations deemed safer than the older DOT-111.
Environmentalists, however, noted that four train accidents in the first three months of 2015 alone involved these supposedly newer and safer models.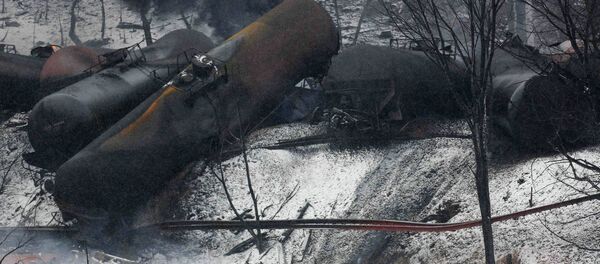 21 February 2015, 02:17 GMT
Earthjustice attorney Kristen Boyles was quick to point out the deficiencies in the revised safety regulations. In a statement she released after the accident, she said that "Under the Department of Transportation's (DOT) new rules, the type of oil tank cars that are burning in Heimdal will stay on the rails for five to eight years."
Jared Margolis, attorney for the Center for Biological Diversity (CBD), echoed her concerns and warned "We will continue to see these fiery derailments events with the new regulations in place, because they fail to take sufficient actions to prevent oil train wrecks."
The CBD and Earthjustice are among many other organizations calling for an immediate moratorium on what they refer to as "bomb trains."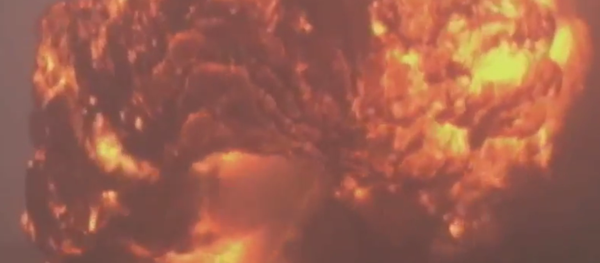 17 February 2015, 17:44 GMT
The revised safety regulations come two years after an unattended train in Quebec derailed and exploded, killing 47 people. They also follow a series of explosive derailments in West Virginia, Illinois, and Ontario in 2015.
Crude oil transportation has boomed in recent years, largely due to the US's growing oil economy. The number of crude oil tankers moving across North America has increased from 9,500 in 2009 to 450,000 in 2014.