MOSCOW (Sputnik) — Saturday's events in Moscow marking the 70th anniversary of the victory over Nazi Germany will be the biggest celebrations of the kind that the Russian Federation has ever held.
The Victory Parade on Moscow's Red Square will kick off at 10:00 a.m. local time (08:00 GMT).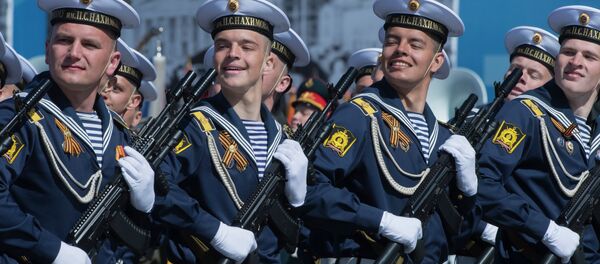 About 16,500 servicemen, almost 200 units of military vehicles and some 140 helicopters and planes will participate in the celebration, according to the Russian Defense Ministry.
Russia is set to showcase several brand new weapons systems during the event, including main battle tanks, armored personnel carriers, self-propelled artillery systems and anti-tank missile systems.
About 30 leaders of states and international organizations are taking part in the Moscow celebrations.
According to the Kremlin spokesman Dmitry Peskov, leaders of China, India, South Africa, Venezuela, Vietnam, Germany, Zimbabwe, Cuba, Macedonia, Mongolia, Palestine, Slovakia, Bosnia and Herzegovina, Abkhazia, South Ossetia, Cyprus, Serbia, the Czech Republic, Azerbaijan, Armenia, Belarus, Kazakhstan, Kyrgyzstan, Tajikistan and Turkmenistan have confirmed their participation in the commemoration events in the Russian capital.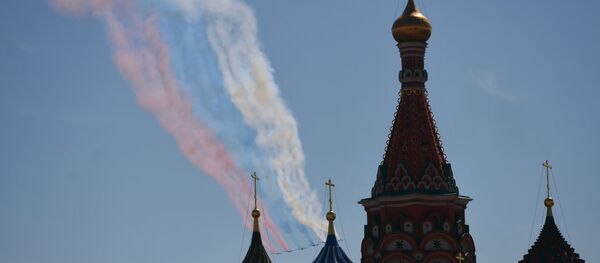 UN Secretary-General Ban Ki-moon and UNESCO Director General Irina Bokova will also take part in the celebrations.
According to the Russian president's aide Yuri Ushakov, the event will also be attended by foreign ministers of Italy and France. The United Kingdom, according to Ushakov, will be represented by Winston Churchill's grandson.
Besides Moscow, parades will be held in 150 cities across Russia, as well as in Belarus, Kyrgyzstan, and Armenia, among other nations.