Around 90 percent of the vessels carrying migrants from North Africa, Iraq and Syria set sail from Libya, where in 2011 France and Britain embarked on a military-backed mission to remove the country's leader — Colonel Gaddafi — from power.
On a visit to Libya in 2013, British PM David Cameron said: "In building a new Libya you will have no greater friend than the UK. We will stand with you every step of the way."
But in a recent interview with Sputnik, Nabila Ramdani, journalist and Middle East commentator, said that Libya is now in a permanent state of lawlessness.
"Libya, in short, is gradually becoming a new Somalia, a failed state threatening the safety of all of us."
But is military action the answer? According to Ramdani, the bombing in 2011 by British and French forces made the situation worse. "The overthrow of Gadaffi was short-sighted and left only chaos." Ramdani believes that UK Prime Minister David Cameron and other western politicians need to acknowledge their failure. Instead of airstrikes — Britain and France should work with the government in Libya to rebuild viable institutions.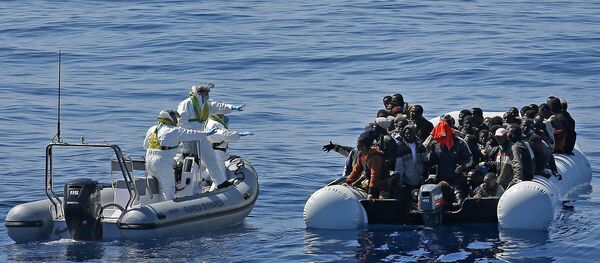 Six European Union states have committed to taking part in military action. Libya's ambassador to the UN, Ibrahim Dabbashi told the Associated Press that he had not been consulted on the plans and opposed them. The British draft resolution is thought to call for the "use of all means to destroy the business model of the traffickers."
When People Smuggling Becomes Political
Meanwhile, Brussels appears to be looking further than the "business model of the traffickers" and has devised a plan to impose migrant quotas on the 28 European Union member states in response to the Mediterranean boat crisis.
The plan, backed by Germany but not Britain, will be launched by the European Commission.
The proposed 'key' system set by Brussels will establish a quota for sharing refugees among the 28 member states. The policy document says:
"The EU needs a permanent system for sharing the responsibility for large numbers of refugees and asylum seekers among member states."
Brussels vs Britain
But the proposed EU emergency resettlement program by Brussels isn't going down well with Britain's Home Office which says it will refuse to accept any refugees under the program.
If EU strike smugglers in #Libya —w/o addressing root causes — you leave the migrants to the mercy of the brutal traffickers in a civil war

— Bel Trew — بل ترو (@Beltrew) May 10, 2015
The Home Office has also said it will refuse to take part in any future plans to resettle non-EU refugees who make it across the Mediterranean alive. "When a new piece of legislation in the area of justice and home affairs — including asylum policy — is proposed, the UK can choose whether or not to participate in it. We will not participate in any legislation imposing a mandatory system of resettlement or relocation."
The refugee rhetoric from Britain's newly formed Conservative government resonates with what Hungary's Prime Minister Viktor Orban had to say on the matter:
"The European concept of 'someone letting immigrants into their country' and then 'distributing' them among other member states is a mad and unfair idea."
Dimitris Avramopoulos, EU commissioner for migration, home affairs and citizenship has suggested a system based on criteria such as national wealth levels and unemployment rates — in order to distribute refugees proportionally among the EU.
Philip Luther, Amnesty International's Middle East and North Africa Director says: "The ghastly conditions for migrants, coupled with spiralling lawlessness and armed conflicts raging within the country, make clear just how dangerous life in Libya is today. With no legal avenues to escape and seek safety, they are forced to place their lives in the hands of smugglers who callously extort, abuse and attack them.

"The international community has stood and watched as Libya has descended into chaos since the 2011 NATO military campaign ended, effectively allowing militias and armed groups to run amok."
According to Luther, "world leaders have a responsibility and must be prepared to face the consequences, which include greater levels of refugees and migrants fleeing conflict and rampant abuse in Libya.
"Introducing measures to tackle smugglers without providing safe alternative routes out for the people desperate to flee conflict in Libya will not resolve the plight of migrants and refugees."
Magda Mughrabi, Amnesty International's Libya researcher told Sputnik that the EU's proposal for military intervention is extremely concerning, describing it as the "wrong answer to a very complex problem."
"Under this policy any boat could become a target. How will any possible military intervention differentiate between a fishing boat and a smugglers boat? It could lead to civilian casualties."
"They very often don't have travel documents because they have been stolen or confiscated by traffickers and smugglers, so they cannot leave Libya through regular routes on land, forcing them to travel by sea," said Mughrabi.
Mughrabi believes that military intervention by EU countries could contribute to more migrants and refugees fleeing conflict and persecution — and ending up trapped inside Libya — in even more desperate situations.  
The EU Commission's European Agenda on Migration is being drafted and will be revealed this week.