MOSCOW (Sputnik) — About 100 migrants who were travelling from Myanmar and Bangladesh to Malaysia, were killed on board after a fight broke out on a boat over the last remaining food, the BBC reported Sunday.
On Friday, Indonesian fishermen rescued some 700 migrants from a sinking boat, who are now being processed by the country's authorities.
The migrants who had been at sea for about two months reportedly aimed for Malaysia but denied to enter the country by the navy.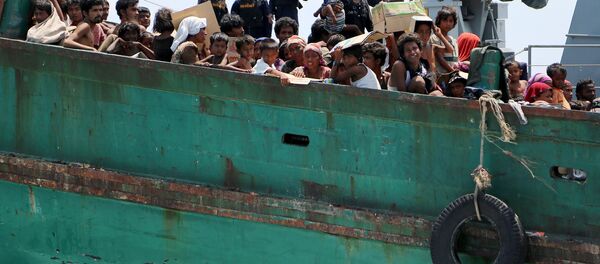 The survivors told a BBC correspondent that people on board were stabbed and thrown overboard.
The survivors are now being treated from malnutrition and dehydration in Indonesia's makeshift hospitals.
Many of the migrants are Rohingya Muslims fleeing horrible living conditions and possible persecution in Buddhist-majority Myanmar.
In Myanmar, Rohingya Muslims have no official documents or jobs and are often subjected to forced labor.