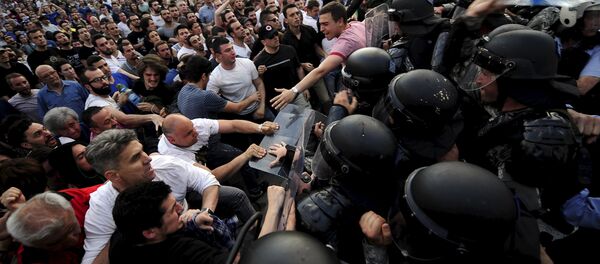 MOSCOW (Sputnik) — The Serbian diplomat, who is also current president of the Belgrade Forum for a World of Equals, a non-profit association, noted that even though some details of the "regime change" scenario differ from country to country, the main processes and methods remain the same.
"The current events in Macedonia are a blueprint of 'regime change' patterns in Serbia (Yugoslavia), and elsewhere in Europe, Northern Africa, or current attempts to destabilize Brazil, Venezuela, and Argentina," Jovanovic said.
The process includes "propaganda machinery generating popular discontent, organizing massive protests and even armed incidents, advancing demands for 'changes' and, finally, overthrowing legally elected governments."
He added that the idea of "Greater Albania" is not new, but it was "propped up" by NATO aggression of 1999 and reinforced by 2008 secession of Kosovo and Metohija, which was supported and recognized by the United States and most of NATO and the European Union members.
"There could hardly be any doubt that current destabilization of Macedonia could happen without the will and even support of the same western factors. Statements from various western capitals, participation of some western ambassadors at the opposition rallies in Skopje, slogans and western propaganda, in general, is more than revealing."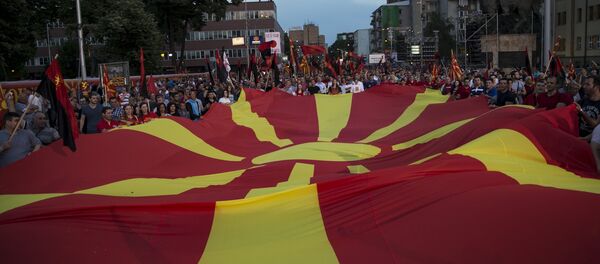 Serbia is one of the countries in the region most interested in a stable Macedonia, he added.
Late in April, a group of some 40 Albanian-speaking gunmen briefly seized a police station in the northern Macedonian village of Gosince calling for the establishment of an Albanian state. Less than three weeks after the incident, on May 9, Macedonia witnessed deadly clashes between police and an armed group of Albanians in Kumanovo, a city bordering Serbia and Kosovo.
The tragedy was followed by a wave of protests staged by the Social Democratic Union of Macedonia (SDSM) that accused the country's government of corruption and demanded its resignation.
Macedonian Prime Minister Nikola Gruevski believes that the opposition is trying to exploit the tragedy in Kumanovo to gain power.