MADRID (Sputnik) — Spain's ruling centre-right Popular Party (PP) is on track to win the needed 11 of 13 regions but fall short of a majority, an exit poll broadcast by Antena 3 suggested Sunday.
The Prime Minister Mariano Rajoy's party spokesman, Pablo Casado, said in a short speech at the party headquarters it remains "the most popular in Spain."
PP's traditional rival Socialist Party (PSOE) is projected to gain the single principality of Asturias in the country's northwest.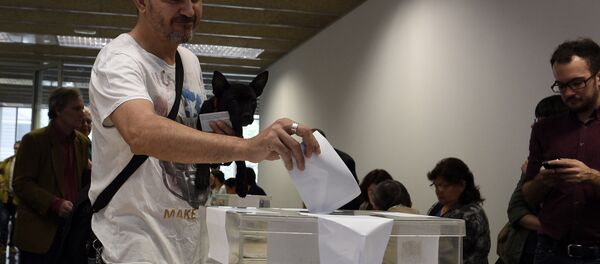 Podemos, a liberal anti-austerity party led by Pablo Iglesias and a first-timer in Spain's municipal elections, is slated to get in all regional parliaments.
Another first-timer, the Ciudadanos (translated as Citizens) centrist movement is also expected to take part in most autonomous regions' legislatures, except in Navarra and Castilla-La Mancha.
Polling stations across 8,122 municipalities and most autonomous regions and cities closed at 8:00 pm local time (18:00 GMT).
The Ahora Madrid social movement's Manuela Carmena and Barcelona en Comu public movement's Ada Colau are each on track to win the mayoral races in the Spanish capital and the country's second-largest city.
Both Carmena and Colau are backed by Podemos.