In the Washington D.C. federal appeals court's eight-page decision released Friday, a three-judge panel wrote, "We cannot reach the merits of this appeal…because it is premature."
The decision to release the footage is now left to the trial judge.
The case involves Syrian national Abu Wa'el Dhiab, 43, who was detained at Gitmo from 2002 to 2014, when he was released to Uruguay. He was cleared for release in 2009, but remained in the prison. Four years later, Dhiab protested with other inmates and kicked off the hunger strike, which led to the force feeding.
The case was initially filed by Dhiab and the video tapes depicting the force feeding were presented under seal as evidence in the trial.
The federal government argues that releasing those tapes would threaten national security and "inflame Muslim sensitivities overseas."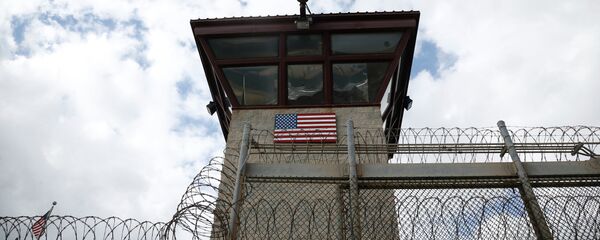 District Judge Gladys Kessler rejected that notion and ordered that the footage be publically released while taking redactions to protect the identities of prison guards. The government appealed that decision.
The three appellate judges wrote that the trial judge now has "an opportunity to consider whether the eight-day time frame it set for the redaction process is reasonable in light of the declaration the government subsequently filed concerning the complexity of the task."
Sixteen media organizations including The New York Times and The Washington Post are calling for the release of the videotapes.
There are 32 tapes in question lengthening about 11 hours.