WASHINGTON (Sputnik) — A US federal judge presiding over the criminal case of former House of Representatives Speaker Dennis Hastert gave money twice to his congressional campaigns, according to media reports.
"The federal judge assigned to preside over the criminal case against former House Speaker Dennis Hastert donated at least twice to Hastert's congressional campaigns, federal campaign finance records show," the Washington specialist political newspaper Politico reported on Monday.
Hastert, 73, faces charges of evading currency rules and lying to the US Federal Bureau of Investigation (FBI) for violating the Currency Transaction Reports rules. The rules require banks in the United States are required to file statements for any transactions exceeding $10,000.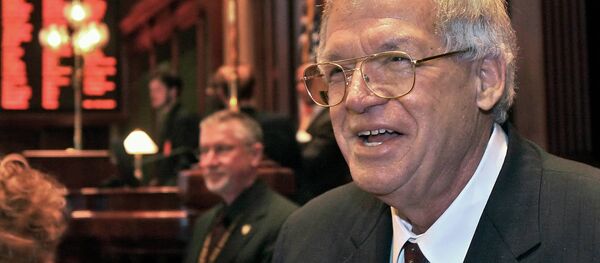 US District Court Judge Thomas Durkin donated $500 in 2002 and $1,000 in 2004 to help finance Hastert's reelection campaigns, according to media reports.
Durkin, made these donations when he was a partner at the US law firm Mayer Brown. He also donated to Republican campaigns like Senator John McCain's presidential bid in 2008.
The court has not responded for comment yet, media reports said.
President Barack Obama nominated Durkin to the bench in May 2012, and he was confirmed by the Senate in December 2012.
Hastert served as House Speaker from 1999 until 2007. He represented the US state of Illinois.