Last week, Hastert was charged with the illegal transfer of nearly a million dollars in a structuring scheme aimed at avoiding cash transaction reporting requirements as part of a payoff of $3.5 million to an unnamed individual over "past misconduct," and for lying about it to federal investigators. The misconduct in question has since been alleged to have been sexual abuse against a student during Hastert's time as a high school teacher and coach at Yorkville High School in Illinois.
Commenting on the case in this week's 'The BradCast' for Sputnik Radio, Friedman noted that he first began covering Hastert's shady activities in the mid-2000s, when former FBI translator and whistleblower Sibel Edmonds testified to the existence of FBI wiretaps revealing that Hastert had accepted bribes from Turkish criminals, which then-president George W. Bush hushed up by invoking the state secrets privilege.
In 2009, Edmonds also testified in a separate case that Hastert "was one of the primary US [officials] involved in operations and activities that are not legal, serving not the interests of the United States but of foreign governments and foreign entities." In her words, quoted by Friedman, "the concerns would be in several categories: the acceptance of large sums of cash or laundered cash, laundering it to make it look legal for his campaigns and for his personal use," in return for "favors" and "certain actions" from Turkish government and business interests. Edmonds similarly testified to the existence of a secret townhouse in which Hastert engaged in certain "immoral activities," without delving into the details.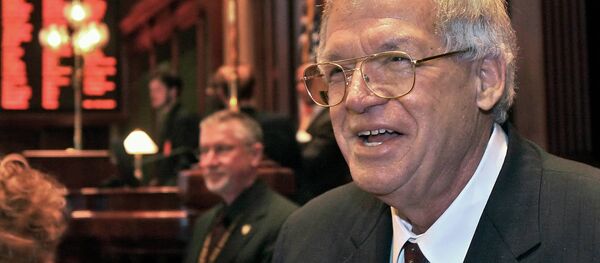 Friedman noted that Edmonds' revelations, long discussed by alternative media, have been ignored by the mainstream media. He also commented on the absurdity of the indictment itself, which focuses on the illegal transfer of funds, rather than other allegations made against the former congressman, including bribery and payoffs by foreign entities and hush money.
Hastert, who served in the US House of Representatives for 20 years, succeeded Newt Gingrich as Speaker of the House in 1999, and retired in 2006 when the Democratic Party took control of the House. He is scheduled for an arraignment hearing on June 4 in the federal courthouse in Chicago.