About 300 activists gathered in the Ukrainian capital on Saturday morning, but their march did not last long, local Hromadske.tv reported.
Just ten minutes after the march had begun, some 20-30 radicals started throwing smoke grenades and spraying tear gas at the activists. The Red Cross administered first aid to an activist who received a serious wound to the neck.
About 1200 policemen tried to keep the peace during the march. When the activists had covered some 500 meters in thirty minutes, the police advised them to put off their vests and disperse for their own safety: a group of hundred radicals with baseball bats were approaching.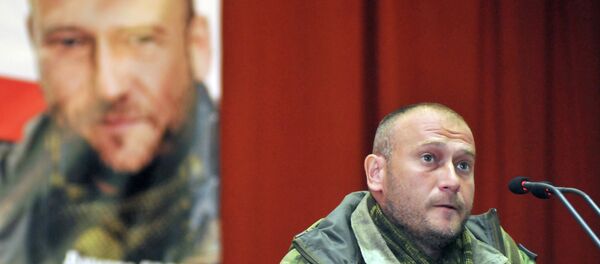 The police clashed with radicals. Nine officers requested medical assistance.
Thirty people were detained. Criminal cases will be launched against those who were apprehended with knives, the police press service reported.
The Right Sector nationalist group  earlier voiced their discontent with the slated march and vowed to prevent the "obscene orgy." Kiev Mayor Vitaly Klitschko called on the organizers to cancel the event. President Petro Poroshenko promised to ensure the security during the march.