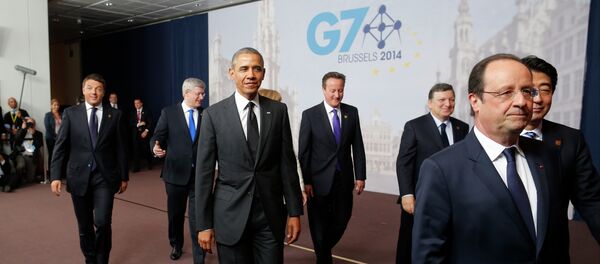 GARMISCH-PARTENKIRCHEN (Sputnik)
–
Anti-Russia sanctions should remain in place, as there is a clear violation of the Minsk agreements on Ukraine reconciliation, European Council President Donald Tusk said Sunday adding that the decision will be taken before the upcoming EU summit.
"If it comes to Russia and the sanctions, obviously I think it is the most important thing today, because we need to maintain sanctions against Russia, because of the clear violation of Minsk agreements," Tusk said ahead of an annual Group of Seven (G7) summit in Bavaria, Germany.
"The European council wants to have Russia as a partner, and not an enemy… but I think that this European decision… on maintaining [sanctions], which we decided in March, this is something more grave, but also consistent," he stressed adding that the decision would be taken "before our European Council meets."
West imposed several rounds of economic sanctions on Russia in 2014 over its alleged involvement in the conflict in eastern Ukraine, a claim which Moscow has firmly denied.
The EU leaders agreed in March 2015 that anti-Russia sanctions, which expire in July, will stay in place if the peace agreement reached in February in Minsk would not be fully implemented. The Minsk deal stipulates a ceasefire and withdrawal of heavy weapons from the line of contact in Donbas.
The final decision on prolongation of sanctions against Russia is expected to be announced during the EU summit, due to be held June 25-26 in Brussels.
Violence in eastern Ukraine escalated just days before the G7 summit kicked off in Bavaria, where US, Canadian, Japanese and four EU leaders are expected to discuss Ukraine conflict, among other issues.
On Wednesday, Kiev troops launched an offensive against local independence supporters along the contact line in eastern Ukraine. The fighting centered in the town of Marinka just outside the Donetsk city and left at least 21 dead and over 120 others injured, according to Donetsk militia.
Ukrainian officials publicly acknowledged that Kiev used heavy artillery in the fighting in Marinka, in violation of the Minsk peace accords.