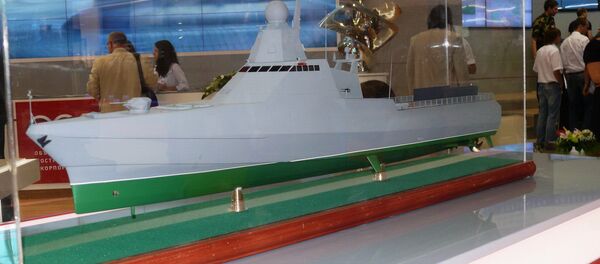 MOSCOW (Sputnik)
–
New Russian Navy destroyers, originally intended to be equipped with Ukrainian gas turbine engines (GTE), will receive Russian-made engines exceeding the Ukrainian analogues, a United Shipbuilding Corporation spokesman told RIA Novosti on Monday.
"The first three patrol ships of the project 11356 and the first two ships of the project 22350 are already equipped with GTEs manufactured in Ukraine. Subsequent ships of both projects will be equipped with Russian-made power units with characteristics superior to Ukrainian GTEs," the spokesman said.
He added that the modernization of existing Russian GTEs has begun and will be finished in late 2017 — early 2018.
Russian and Ukrainian defense sectors were deeply integrated following the collapse of the Soviet Union. However, Ukrainian National Security and Defense Council suspended military cooperation with Moscow after Crimea's reunification with Russia in March 2014.
Russia launched an import substitution program to replace foreign components used in the defense industry. The military equipment and arms import substitution plan was finalized December 2014 and will eliminate Russia's dependency on foreign-made defense products.