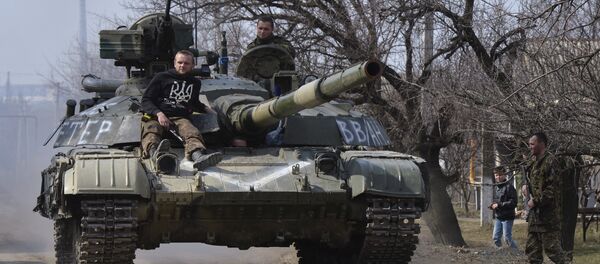 MOSCOW (Sputnik)
–
The Ukrainian government has been fighting independence supporters in the country's southeast since April 2014. Kiev and its Western allies accuse Russia of providing lethal aid and manpower to pro-independence militias.
"We provided $140 million to help Ukraine in the field of security. Counter-battery radars were among the supplies: they are [being] delivered to Ukrainians for defensive purposes," Nuland said.
The diplomat said that drills, currently underway in western Ukraine's Lvov Region, are aimed at increasing the country's ability to protect its sovereignty and territorial integrity. The US-led Fearless Guardian mission, involving some 300 US personnel to train and equip Ukrainian troops, began at the Yavoriv training center in March. There are plans to extend the mission into October.
The decision to equip the Ukrainian army with lethal weapons hinges on developments inside the conflict zone in southeast Ukraine, according to Nuland.
"The most preferable for us is compliance with the Minsk agreements: a stop to armed hostilities along the contact lines, the withdrawal of Russian military equipment, instructors and support forces from Ukrainian territory," Nuland said.
Washington provides non-lethal military assistance to Ukraine, but has stopped short of extending lethal aid over concerns it may further escalate the conflict.
US Congress, however, continues to pressure Obama to approve lethal aid to Kiev in a bid to counter what it and other Western countries consider Russia's involvement in the deadly Ukrainian conflict. Moscow continues to deny the accusations.