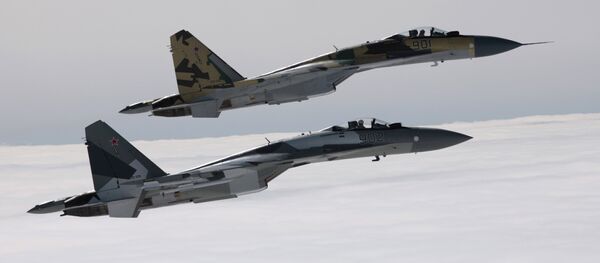 MiG aircraft-making company will develop a fifth-generation light jet fighter, company CEO Sergei Korotkov said during the 2015 Le Bourget Airshow.
"Such a plane has not been ordered yet. But we continue to work on it. We know that there is a broad worldwide market for this type of aircraft," Korotkov said.
He also pointed out that currently many countries across the globe use the MiG-29 aircraft, and they need a plane to replace it.
The MiG-35 4++ generation advanced multirole fighter could be used as a platform for building the fifth-generation aircraft. Mass production of the MiG-35 has repeatedly been delayed, including due to the absence of buyers.
However, in April Russian Deputy Defense Minister Yuri Borisov said the Russian arms procurement program presumes delivering 30 MiG-35 aircraft to the Air Force by 2020.
Another fifth-generation jet fighter for the Russian Air Force – T-50 (PAK FA) – is already in development. It is planned to be an attack aircraft. Currently, three prototypes are undergoing flight tests. Three more planes will be delivered for testing by the end of the year. The first T-50 aircraft are planned to be delivered to the Air Force from between the end of 2016 and the beginning of 2017.