Poland plans to join the "Normandy four" talks on the Ukrainian crisis, Polish Consul General to Odessa Dariusz Szewczyk said.
"Our foreign policy towards Ukraine will not change. Maybe, it will get more intensive. We want to make our position more active. Currently, there is the 'Normandy four' format for Ukrainian talks. It is possible that Poland would take measures to become part of these negotiations," Szewczyk was quoted as saying by the Ukrainian National Information Agency.
According to the consul, the Polish government realizes that it would be difficult to join the "Normandy four" talks.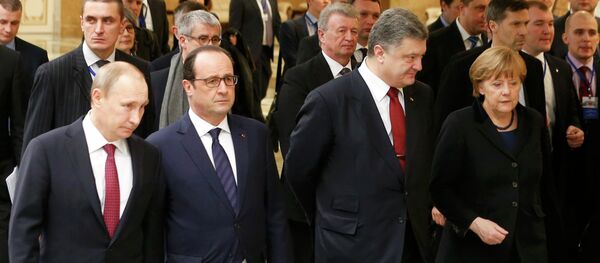 "There is one country that does not want that happen. But we will try," he added.
The Normandy Four group, comprising the presidents of Russia, Ukraine, France and the Chancellor of Germany, has held several rounds of talks on Ukrainian reconciliation.
In February, the group worked out a ceasefire deal in Minsk, Belarus, later signed by Kiev and pro-independence fighters of the Donbass region. The truce included a set of measures to stop military confrontation in Ukraine's southeast.