Officials in Hungary yesterday announced they would reject regulations and refuse to accept any more migrants sent to the country from other EU states, expressing their frustration at what they believe is the uneven spread of migrants within the bloc.
The developments come as Hungarian officials complained of their struggles to contain the movement of illegal immigrants from Serbia — with government figures stating that more than 60,000 people had illegally entered the country so far this year.
In order to boost its border protection, Budapest announced it would build a fence to prevent illegal immigrants from entering the country.
Refusal to Accept Migrants — 'Unacceptable'
Despite claims that Hungary is struggling to come to terms with the influx of immigrants, Austria has called on the European Commission to check if Hungary's actions to not accept migrants from within the EU violate any of the bloc's treaties.
Austrian Foreign Minister Sebastian Kurz told his Hungarian counterpart Peter Szijjarto that Budapest's moves were "unacceptable" and would have "negative consequences" if they were followed through with — while EU officials have asked Hungary to provide an explanation of the situation.
Hungary's plan to build a fence to stop migrants is ill-advised. Focus should be on ensuring access to asylum, not impeding it

— Nils Muiznieks (@CommissionerHR) June 18, 2015
Speaking to ORF radio station, Austrian Interior Minister Johanna Mikl-Leitner said that the country would "not rule out border controls as a last resort" if an agreement could not be met with Hungary.
There are fears in Vienna that if Hungary decides to stop accepting asylum seekers that enter the EU, then it would increase Austria's problems associated with accepting refugees.
Hungarian officials hit back at suggestions made by Austria and other states that they would consider sending immigrants back to Hungary, arguing that if that logic is pursued, then Hungary should send asylum seekers back to Greece, where many of the illegal immigrants first entered the EU.
Europe's Ongoing Migrant Crisis
The political fireworks come as EU leaders plan to meet on Thursday to discuss a new scheme to relocate migrants trying to enter Europe from the Mediterranean, with critics arguing that the desperate nature of the continent's migrant crisis is partly down to the EU's flawed approach to immigration.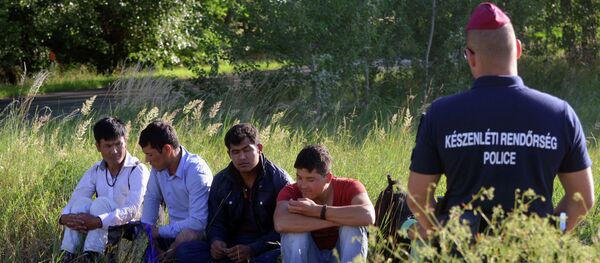 Despite the controversy, this isn't the first time the issue of immigration has been a hot topic for European leaders, with a large part of the UK's push to reform their membership agreement with the EU, based on limiting migrants' access to benefits.
Clashing with many European leaders over plans to make it harder for migrants to receive benefits, British Prime Minister David Cameron has, however, received some support from other European countries experiencing difficulties in processing migrant applications.