The short take-off and vertical landing (STOVL) version of the F-35 is designed to launch from and land on the decks of aircraft carriers. The F-35B is specifically meant to be able to take off from smaller carriers — less expensive and therefore more numerous among US and allied fleets — which use an upward ramp at the end of the decks to compensate for the lack of length and help the jets take off.
To simulate the decks, the tests at the Naval Air Station (NAS) Patuxent River in Maryland used a ramp fitted to the decommissioned HMS Illustrious of the Royal Navy. Currently the British, Italians and Australians are also considering purchasing the US Marines' variant of the joint strike fighter. 
The British have also been leading the way in coming up with new technologies for using the F-35B at sea, such as developing a system of flight deck lights that help pilots focus on a moving ship deck to ease their landings.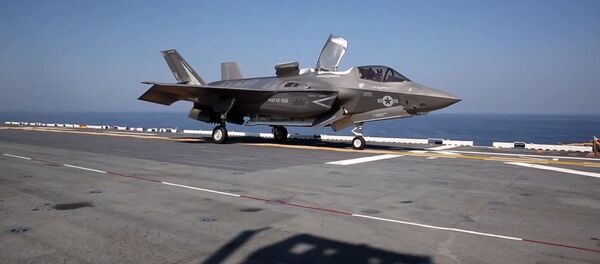 Those vertical landings were also tested earlier this month aboard the ISS Wasp multipurpose assault ship.
The concept behind the STOVL system was inspired by the UK's Sea Harrier jets, but eliminated the need for pilots to manually rotate the jet's exhaust nozzles, Peter 'Wizzer' Wilson, chief test pilot for BAE Systems, told IHS Jane's Defense Weekly. 
Vertical take-off means the jet can launch with more fuel and weapons on board, and using a smaller space. The maneuver also gives pilots more time, which means better safety.
"The real benefit is one of timing," Wilson said. "Once airborne, you are flying upwards rather than horizontal, and this gives you extra time to think if something should go wrong." 
The F-35B is one of three variants of the fighter, and the first slated to reach initial operating capability (IOC), this summer. The F-35A is destined for the Air Force, and the F-35C is for the US Navy.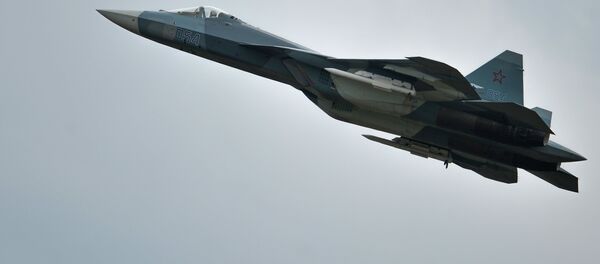 The F-35 program has been plagued with delays and astronomical cost overruns since the Pentagon started development in 2001.
So far $400 billion has been spent, and 140 of the projected 2,443 jets ordered by the US military have been delivered. The projected costs to complete and then maintain the F-35 fleet now tops a cool $1 trillion. Five aircraft have been delivered to foreign military buyers. 
There have been concerns about engine reliability, various software systems problems, and difficulties integrating different weapons systems into different variants. 
Indeed, the Marines' F-35B is reaching IOC first of the three partially because it will not integrate a full suite of weapons. And the Air Force's F-35A, when it technically reaches IOC, will not be equipped with either its high-definition synthetic aperture radar known as "BIG SAR" or a weapon known as the Small Diameter Bomb II.