ATHENS (Sputnik) — Tsipras said that the decisions by the Eurogroup are nothing but blackmail in order to impede the July 5 referendum.
"The decisions of the Eurogroup prompted the European Central Bank not to extend emergency liquidity assistance to Greek banks and forced the Greek Bank to… suspend work of banks and introduce restrictions on bank transactions," Tsipras said.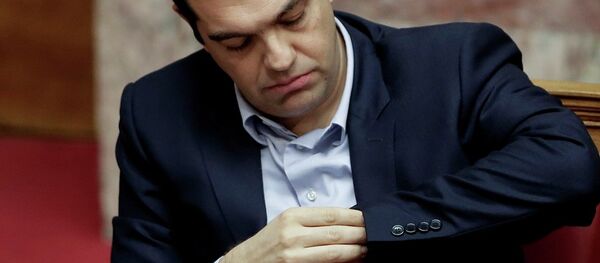 BBC reported earlier in the day citing Finance Minister Yanis Varoufakis that Greek authorities would consider closing banks on Monday, as well as introducing capital controls.
On Saturday, the latest round of negotiations between Greece and its creditors on Athens' bailout deal ended with no results. Rejecting the proposed bailout deal, Athens announced referendum on July 5 to decide whether to accept the new accord offered by the lenders. In response, the Eurogroup blamed Greece for breaking off talks and said the door to further negotiations was closed.
Earlier in the day, one of Greece's creditors, the European Central Bank (ECB) made a decision to keep the level of emergency liquidity assistance to the Greek bank sector unchanged.
Greek current bailout program expires on June 30. The same day, Greece must deliver the next $1.7-billion payment to one of its major creditors, the International Monetary Fund (IMF). If the sides fail to reach a deal, Greece may default and exit the eurozone.