WASHINGTON (Sputnik) — The US decision to lift the ban on sending weapons to Bahrain legitimizes the regime's human rights violations against peaceful demonstrators, Bahrain Forum for Human Rights spokesperson Baqir Darwish told Sputnik.
"This decision is very dangerous as it doesn't lead to achieving political stability, rather, it helps deepen the rift between the Bahraini people and the regime and legitimizes the government's human rights violations," Darwish said on Tuesday.
On Monday, the US State Department announced that Washington will resume its security aid to the government of Bahrain due to progress on human rights reforms.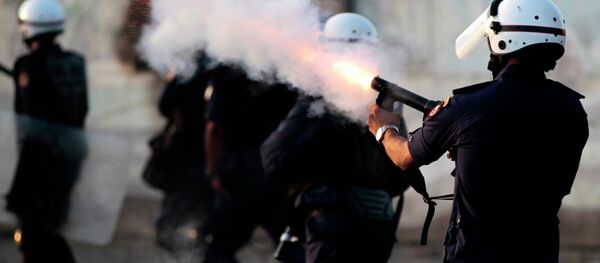 Darwish denied such progress, explaining that the human rights situation is deteriorating. He added that the US decision will feed into the Bahraini government's abuse toward its people.
"If the United States does not force Bahrain to abide by firm restrictions in order to benefit politically, Bahrain will dodge its international commitments," he said.
Darwish explained from February 2011 till May 2015, 79 Bahrainis suffocated to death from the illegal use of tear gas by the regime, while 33 died of gunshots. Around 4,875 people have also been injured by the use of excessive force, and 3,586 were victims of torture and ill-treatment, he added.
The activist said by providing the Bahraini regime with weapons the US is looking after its own interests in the region at the expense of human rights values.
Bahrain is a US ally in the Persian Gulf region and is the home port for the US Fifth Fleet.
Since 2011, the Sunni regime in Bahrain has been locked in a struggle with an opposition movement led primarily by Shiites, who constitute a majority of the country's population.