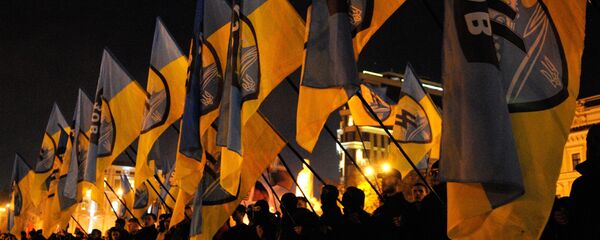 The village of Shirokino in eastern Ukraine has unilaterally been designated as a demilitarized zone by the authorities of the self-proclaimed Donetsk People's Republic, according to Denis Pushilin, chairman of the republic's Supreme Council Presidium.
He said that the decision on the demilitarization of Shirokino had been made by the republic's authorities "as an act of good will and the demonstration of peaceful intentions." 
"The armed forces of the Donetsk People's Republic have been instructed not to open fire in response in this direction ", Pushilin said, referring to the village of Shirokino.
He added that control over the situation there should be handed to a mission of the Organization for Security and Cooperation in Europe, which Pushilin said "will be the guarantor of peace and security." He also urged Kiev to support the Donetsk People's Republic's peace initiatives.
In April 2014, Kiev launched a military operation against the Donetsk and Lugansk regions of Southeastern Ukraine, in which the local populations refused to recognize the government which was established via Kiev's violent February coup d'état.

According to the latest UN data, about 6,500 people have already been killed in the ensuing struggle. The settlement of the situation in Donbass has repeatedly been on the table of the Minsk contact group, which adopted three documents on de-escalating the conflict.
In mid-February 2015, Kiev and the self-proclaimed republics of Lugansk and Donetsk signed a ceasefire agreement to bring an end to the armed conflict. However, both sides have since repeatedly accused each other of violating the deal. Shirokino is located at a key point east of Donetsk Oblast's second-largest city of Mariupol, which was re-taken by government forces following a brief period of fighting in May, 2014. An assault on Mariupol was launched in January by pro-independence forces, which later retreated to Shirokino.