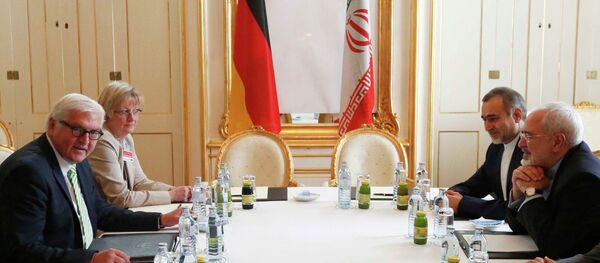 VIENNA (Sputnik)
–
Tehran is ready to cooperate with the International Atomic Energy Agency (IAEA) on the so-called possible military dimension (PMD) of Iran's nuclear program, the country's deputy foreign minister, Abbas Araghchi, said Friday.
"We are ready to cooperate with [IAEA head Yukiya] Amano to make it clear that the dossiers opened against Iran are not more than baseless claims, and show the white dossier of Iran's nuclear program," Araghchi told IRNA news agency.
"The matter of PMD is an old subject and chronic discussion and it has been there for years and it's related to the claims regarding Iran's program, and these claims have become the basis for these pressures, sanctions and threats," he added.
The PMD refers to activities that are components to a secret program to develop nuclear weapons.
On Wednesday, Amano traveled to Tehran to meet with the Iranian leadership and discuss cooperation between the agency and the country, as well as issues related to the deal on Tehran's nuclear program.
Iran and P5+1, comprising Russia, the United States, China, the United Kingdom, France and Germany, are trying to work out a deal ensuring the peaceful nature of Tehran's nuclear program, as well as lifting the economic sanctions against Iran.
Tuesday was the deadline for the P5+1 group and Tehran to reach a deal on Iran's nuclear program, but the negotiators have pushed out this date for another week.
The talks were extended amid disagreements over proposed IAEA inspections of Iran's nuclear facilities, as well as the mechanism for lifting and potentially reimposing sanctions.