PRAGUE (Sputnik) — Prime Minister Alexis Tsipras tries to trick Greek voters into believing that Athens will strengthen its negotiating position if the country rejects creditors' bailout terms at the upcoming referendum, Slovak Finance Minister Peter Kazimir said Friday.
Greece is set to vote in a referendum on Sunday to decide whether to accept its creditors' demands for additional austerity measures and unpopular economic reforms in exchange for financial aid.
"Prime Minister Tsipras creates illusions… claiming that if the Greeks vote against the economic reforms, he will get a stronger mandate for negotiations on a third [bailout] program. It is an illusion, a lie," Kazimir was quoted as saying by the Slovak Trez Newspaper.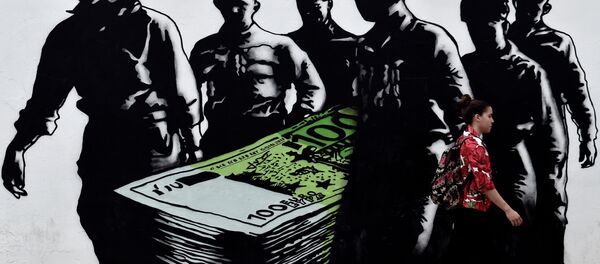 If the Greek people vote 'no' in the upcoming referendum, Athens would come closer to the crisis scenario, which also means a gradual exit from the Eurozone, the minister added.
Kazimir said that it is "always possible to negotiate everything," saying that the ruling Syriza party should pay attention to the Greek people, not exclusively to its political goals.
Greece was severely affected by the 2008-2009 economic crisis, and was offered massive bailout programs from the international lenders. The economic hardship, multiplied by the mismanagement of previous Greek governments, has resulted in Athens being saddled with a multibillion-dollar debt.
The nation has been trying to unlock additional financial aid in order to avoid a default and possible Eurozone exit. On Tuesday, Greece's latest bailout program came to an end and was not extended.
The talks between Greece and its international lenders deadlocked last Saturday as Greek Prime Minister Alexis Tsipras rejected the new bailout accord offered by the Eurogroup and scheduled a referendum to be held on the matter on Sunday.