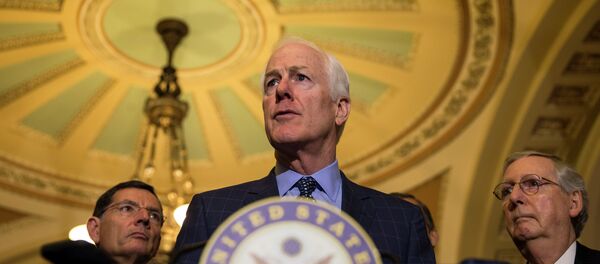 In an interview with the Russian service of Voice of America, Senator Roger Wicker described Crimea's reunification with Russia as "aggression by Moscow" and "annexation by a powerful state" of the territory of another country, which is a member of the Organization of Security and Cooperation in Europe.
"You may come up with any pretext, but everyone everywhere in the world, on both sides of the problem, realizes this is an act of aggression… that must be condemned. Frankly speaking, I believe you need to meet force with force," the Mississippi Republican said.
Relations between Russia and the West have been in a downward spiral since the Crimean referendum and the start of the Ukrainian conflict, with the West accusing Russia of direct involvement in both affairs. The Kremlin maintains that the Black Sea peninsula's plebiscite reflected the will of its population and the conflict in Ukraine is an internal matter that Moscow has no part in.
Sergei Naryshkin, the speaker of the lower house of the Russian parliament, was among a team of Russian officials barred from traveling to Helsinki this weekend for a meeting of the Organization for Security and Cooperation in Europe (OSCE).
He told reporters Thursday that the Kremlin considered it "unacceptable" to pare down its 15-member delegation and would boycott the meeting.
The Finnish media later reported, citing President Sauli Niinistö, that Helsinki was ready to accept the Russian delegation but had to backtrack after objections from other members of the European Union.